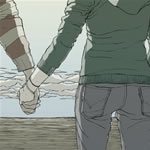 Although Keith Kenniff's (aka Helios, aka Goldmund) music is labelled as 'ambient' in fact it's nothing like it. At least not in my definition of the genre. There's way too much melody and rhythm in it, you could even hum along…
It's not just strictly electronics – there's a soft guitar, piano, laid back percussion. This is the sort of music that feels like a warm bath. It's very 'friendly' music…opposite to the dark threatening atmosphere that ambient drones sometimes have.
Sounds a bit like Susumu Yokota on his better works, and, yes indeed, Goldmund.