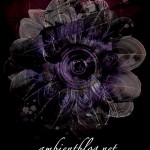 This weblog is built with WordPress, based on the 'Fluida' template by Cryoutcreations.
Edu Hackenitz has been an invaluable (and patient) help in optimising the site, and converting the data from its earlier (Pivotx) life!
Edu and Vic van Cooten helped with various CSS tweaks and enhancements.
The background image and colour scheme are based on the flyer designed by Ingmar Hugen.
Thanks also to Matthew Florianz for helping me understand the Reaper surround settings.
And last but certainly not least: thanks & credits to all the artists creating the music I love…

---
Donate?
This weblog is not about making money. It's about my passion for this music.
So please spend your money on buying music from the featured artists first!
But if you got some left in the end, why not help me keeping this weblog up by donating a small amount?
You can be sure your donation will be used for keeping this weblog alive: it helps to pay for the web hosting, for example. And I promise I will keep it ad-free and without 'sponsored content'!
Thanks in advance for your donation!
(Donations are handled securely by PayPal)
These kind people have helped to keep Ambientblog ad-free:

Michele Montserrat (monthly donation, wow!), Michael Squibbs, Daniel du Prie, Quietguy Bandcamp (multiple!), Bruno Sanfilippo, Carsten Martin Steffen, JP Boudreau, Robert Collier, Luigi Castiglioni, John Holmes, Peter Yovu (multiple!), Stephane Bourez, Cas van Cooten, Michel Banabila, Iris Honderdos, Els Koeneman (multiple!),Mike King, M. Hoogeland (multiple!), William Klayer, Terry French, M. Jostmeijer, Ivo Petrov, Mike Plötzki, Yves Aerden, Patrick Fitzgerald, Ivo Petrov, Evan Sawdey, Stijn Swinnen, Terry French, C.P. Dorst, Joris van Baars, Sergej Kenner, Nico Janssen, Marc Neys, Joan A Thompson Stunell, Michael Gramkov, Colman Jones, Stephen Phillips, Robert Miller, Geofrey Moore, Nico van Hemmen (multiple!), Guido van Lonkhuijzen, Jason Simpson, Emmanuel Toledo, John Rixon, N K Bushoven (multiple!), Pál Zoltán, Jef van Baelen, Dave Lensink, Paul Sharma, Scott Millar, Menno Hoogendoorn, Kelvin Smith, David Brown (multiple!).
To those who helped to continue this weblog with a donation: THANK YOU!!!
I'm very grateful for your support!
[total: 2,497 - today: 1]