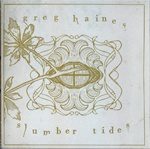 In between the growing names of contemporary (post-)classic composers, Greg Haines' debut stands out for it's own style. It's not trying to be too 'classical', because it's more electronic than just that. But on the other hand it's not exactly 'ambient' too (to continue the previous post about the ambient subgenres: we could define this music as 'classbient' – classy classic ambient 🙂 )
The record label Miasmah namedrops some of Greg's inspirations: Arvo Pärt, Ryan Teague, William Basinski… If these names mean anything to you you know where to go. And dont' forget Colleen for the sound of the glockenspiel.
This is a great cd for the dark winter days coming up!