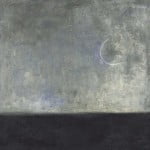 Paul Sharma's Embers is a beautiful electronic composition based on the Indian midnight raga Malkauns, and thus is very suitable for midnight listening (The Raga Guide indicates Late Night: 12 – 3).
"Malkauns is a serious, meditative raga, and is developed mostly in the lower octave (mandra saptak) and in a slow tempo (vilambit laya)."
(Wikipedia)
On this version the vocals are more in the middle octave as that suits Rajesh's voice, but there are instruments at the lower (and sub-lower) to compensate. The vocal piece starts with an alap (free or rhythmless tempo) and then a slow tempo vocal.
"It is a majestic and somewhat introverted pentatonic raga, which seems to have undergone quite a transformation over the centuries. Superstitious musicians describe it as a raga with supernatural powers, and some believe that it can attract evil spirits."
(The Raga Guide)
Paul Sharma provides us with a very quiet, ambient raga, that comes in two distinct versions:
"The first piece is a mixture of ambient and generative music – I programmed the raga themes into a number of Reaktor synths and let them run – then added guitar and some proceeded older versions of Malkauns which act as memories."
"The second version has vocals by my friend Rajesh David and locates the piece much more in the Indian tradition."
Basically, the drone of the Indian raga is not unlike that of electronic ambient music (though the audience may differ). In Embers, Paul Sharma seamlessly links the age-old tradition of indian raga to the modern electronic music era.
There's a lot of musical detail in the instrumental version, but Rajesh David's vocals manages to add a completely new cultural layer to that.
I find it hard to believe that this raga could possibly attract evil spirits, since it sounds more peaceful than most other music I have heard.
Though he has published some of his musical works via myspace, Paul Sharma is not primarily a musician. Some of his photographs / paintings can be seen on his website gallery. I have chosen two images that I think fit the atmosphere of Embers".
"No amount of writing can describe the raga in true sense. Listen to it to experience the bliss of malkauns. Frankly the journey on which malkauns takes the listener to would be an experience to cherish."
Ashish Kumar Ambasta

For best results, download both tracks, sit back and listen – preferably 'round midnight…
Paul Sharma's album 'Safar' (Journey) will be released on the Test Tube net label by Spring 2010.
Exact date of release is currently unknown, but I'll keep you posted!
Thanks to Paul for offering these files as an exclusive Ambientblog.net download!
Paul Sharma – Embers – Instrumental
[download this track – rightclick and 'Save As…']
Paul Sharma – Embers – Vocal
[download this track – rightclick and 'Save As…']