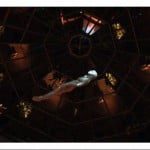 Contemporary electronic music is firmly rooted in Germany – I guess no one will argue that.
So is No Accident in Paradise, a four person "Live Ambient System", or freeform ambient music project. 
No Accident in Paradise combines live electronics and keyboards with sampled electronic music recordings and rather stunning visuals by Robert Seidel. They perform at unusual locations that perfectly fit their music: check the video of the Therme Bad Schandau performance (below) for a good impression!
Their sets are carefully crafted, and the music is a well-balanced combination of sampled material and live improvisations.
You may hear fragments of sounds that are vaguely familiar, but in a new context. The keyboard improvisations add the additional live element that so much electronic performances lack.
Two live mixes (totalling 3 hours) can be downloaded from their site http://www.noaccidentinparadise.com/
Musically, No Accident in Paradise covers a wide range of ambient/electronic styles. At some moments, there's Tangerine Dream-like sequenced patterns (the closing sequence of the Bad Schandau set brought back fond memories of a long forgotten Edgar Froese record).
But there's also drones, environmental sounds… sometimes the rhythm track builds up to a 'loungey' feel, but then again slowly dissolves into immersive ambient sounds.
Three hours is a long time, but I had no problem listening to these sets without losing interest. So they're definitely worth the download!
Probably, this NAIP crew will not easily be found performing outside of Germany. Viewing the video of the live set in Bad Schandau, is a satisfying alternative.
You can find their live recordings at http://www.soundcloud.com/noaccidentinparadise
and the live session visuals at https://www.vimeo.com/naip
… or just start by visiting the No Accident In Paradise website
NO ACCIDENT IN PARADISE live @ Liquid Sound 2009