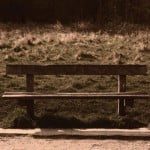 The Hibernate Sampler did a fine job: I was so impressed by the quality of the music that I ordered a batch of albums from the label. All of them were interesting enough to be reviewed here (and maybe I will).
But as much I enjoyed them, Porzellan's The Fourth Level of Comprehension was the one I played most repeatedly.
Porzellan is Francis Cazal. Classically trained composer and baroque violinist. The latter may be a bit confusing, since none of the music is very 'baroque-as-we-know-it'.
But, firmly rooted in classical composition techniques, Cazal obviously knows how to create a compelling composition.
For The Fourth Level of Comprehension, he sampled his own violin playing and processed these samples electronically, mixed with some samples of old baroque records (although I can hardly isolate these).
Some of the five tracks on the album sound fully acoustically (Nothing More than Nothing), some are processed more heavily (Between Two suns, A White Wall & A Tree, Rosen), or even sound like completely electronic recordings (One Week & One Day) –  but all tracks have the same beautiful balanced organic sound that makes this album unique.
Cazal takes his time to develop every track slowly (average 10 minutes for each track), which gives the album an overwhelming (and comforting) unhurriedness.
If you want comparisions, The Fourth Level of Comprehension sounds like a stripped-down counterpart of Johann Johannsson's music (especially Virgulegu Forsetar). Or: like the electronic counterpart of Arvo Pärt. But the sound of the Stars of the Lid also comes to mind.
Guess that's enough for a recommendation..
Physical copies in limited edition available from Hibenate Recordings.
Digital download available from Hibernate @ Bandcamp