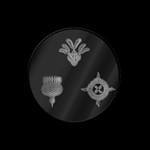 Bloom. Huge. Allure. The Explanation. The Discussion. An Answer.
This is quite a special case (literally!).
Carefully scheduled in the last three years, Fovea Hex released three EP's, each containing three songs, with a bonus cd containing remixes/reworks by The Hafler Trio (H30) for every initial release.
Concluding this series, in 2007, a beautiful box is released (as could be expected) containing all 3 EP's and, if you want it all, also including the bonus cd's.