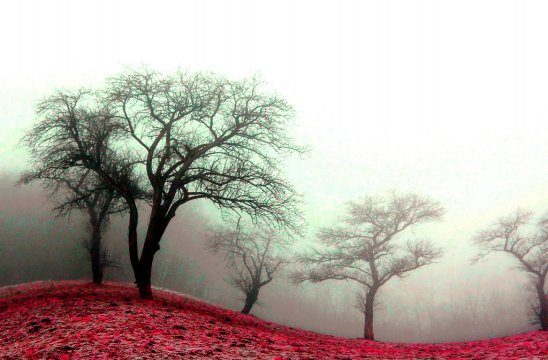 Nonstop Ambient Montage: from Alva Noto to Arvo Pärt, via Arve Henriksen and Jacaszek, with short stops at Christopher Bissonnette, Entia Non, Kraken, Goldmund, and many, many others.
This mix was created may/june 2009.
Image by Weirena
This is the last of the 'ambient montages' that were created for radiobroadcast.
Until now, 24 mixes are published on this weblog, counting 26 hours of continuous ambient/electronic/experimental music.
In the remaining weeks of this year some 'different approach' mixes will be published additionally: one focussing on game music and another focussing on the work of one composer.
Then, in 2010, on to the next phase….
DREAM CALIBRATION PLAYLIST:
The Green Kingdom/Gogooo – Miniature Forest
– Miniature Forest – 2008 – SEM Label – IOD 004
Goldmund – Apalachee
– The Malady of Elegance – 2008 – Type – Type 039
Michael Trommer – Frau Straubinger
– Tree Line – 2008 – Serein – SER 018
Autistici – Attaching Softness to a Shell
– 12K Promo Sampler – 2007 – 12K – 12kP001
Náhvalur – Laveer
– Aboideau – 2008 – Mystery Sea – MS46
Kraken – C 03
– Nachtschade – 2008 – Spectre – S30
Angus MacLaurin – Sea Shanti
– Glass Music – 2000 – BubbleCore – BC032
Vibration Institute – Environment
– Two Dream Calibration – 2008
Christian Hoy Knudsen – Plankton
– Hav – 2000 – Council of Nine – COFN002CD
Christopher Bissonnette – A Touch of Heartbreak (edit)
– In Between Words – 2008 – Kranky – KRANK 118
Jacaszek – Lament
– Treny – 2008 – Miasmah – MIACD007
Nighel Samways – There's a Long Raincloud Deep Inside
– Veilleur de Nuit – 2009 – Experimedia.net – EXP051
Harold Budd – Of Many Mirrors
– A Song for Lost Blossoms – 2008 – Darla Records – DRL198
Arvo Pärt – Für Lennart in Memorian
– In Principio – 2009 – ECM New Series – ECM 2050
Rudi Arapahoe – Dionysian Birds
– Echoes from One to Another – 2008 – Symbolic Interaction – SIC015
Elian – It was over, Just Like That
– And Then it was over Just like That – 2008 – Trans>Parent Radiation – Trans012
Amir Baghiri – Halley
– Planet X – 2006 – BlueBox – BB002
Entia Non – Perfunctory Jousting
– Lilt – 2008 – Test Tube – tube122
Kraken – C03
– Nachtschade – 2008 – Spectre – S30
Alva Noto – Monophaser 2
– Xerrox Vol. 2 – 2009 – Raster-Noton – R-N 103
Yui Onodera – Le Jardin
– Le Jardin – 2007 – Taâlem – alm45
Chris Watson & BJ Nilsen – Austrvegr
– Storm – 2006 – Touch – Tone 27
Audela – Part 3
– Audela – 2007 – Plague Recordings – Plague 002
Arve Henriksen – Famine's Ghost
– Cartography – 2008 – ECM – ECM 2086
Janek Schaefer – Broadstairs Children's
– Piano MUS*****C – 2008 – Crónica – 032
Atom TM– Weisses Rauschen (Ausleitung)
– Liedgut – 2008 – Raster-Noton – R-N099

Download Dream Calibration Now 79Mb (59 min.)
[total: 1,464 - today: 1]