Earlier this weekend, the Belgian label Slaapwel (Sleep Well) presented their first labelnight in Leuven, Belgium.
To my regret, I was not able to be there – although I'm a big fan of Slaapwel's sleep inducing catalogue.
And, looking at the venue for this special night (including breakfast) it must have been very special indeed:
Music for a sleeping Sculpture of Peter Broderick" title="Music for a sleeping Sculpture of Peter Broderick" class="thickbox">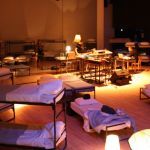 impressive album was released together with Machinefabriek.
This new Slaapwel release is a nice addition to his discography.
The 30 minute track starts with some vocal sampling (reminiscing Brian Eno's Music for Airports). Gradually the vocal sample dissolves into a beautiful piano track. Your sleep may be intruded slightly by some whispering, whistling and singing, but eventually your sleep will get deeper and deeper when the cycles repeat.
Sleepy, but far from boring!
It's a comfortable listening experience – as might be expected from previous Broderick records as well as from previous Slaapwel releases.
The way this album is released is something different, too. This album is available through bandcamp, and the first 500 people downloading it from there will also receive a physical copy.
Or, if you want:
Those who order a physical copy can immediately download the track so they don't have to wait until the CD arrives.
Further good news if you missed the previous (5) Slaapwel releases: from now they are also available to download from bandcamp.
Off now, for a good night's sleep.