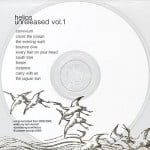 Helios is in fact Keith Kenniff, who is also releasing as Goldmund. Most of his releases were issued through Type records, but there are also a couple of titles available directly from the artist himself.
And these prove to be as interesting as the official releases.
Whereas Goldmund albums tend to focus on piano compositions, Helios mostly is more electronic pop-ambient music. But there's not too much difference between these two aliases: if you like the sound of Goldmund, you'll also immediately recognise Helios as coming from the same source. And vice versa.
From start to end, Unreleased, vol.1 (strange title, since it's released by now) has a nice, lush, loungey feel. I would not call it 'ambient music' in the strict sense (ignorable, neither rhythm nor melody, etc) , because it has rhythm as well as melody and in that way is not exactly 'ignorable'. But it's no standard "lounge music" either.
Kenniff's sophisticated production and adventurous twists prevents the music from becoming too laid-back (as some less interesting lounge music tends to do) – there's always an interesting detail giving a new dimension to the track. Like, for example, the creaking wooden ship sounds in 'Cross the Ocean'. Or the rhythmic sound of slapping branches (I think) in 'South Three'.
Although this set is presented as a collection of unreleased and thus unrelated tracks, the album is remarkably consistent and coherent. As if they were originally intended to be released together.
As a composer, Kenniff is able to create beautiful themes, and he's able to give these tunes exactly the sounds they need.
Beautiful music like this should not remain unreleased, indeed.