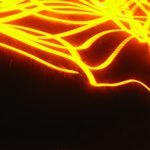 "Utsura-Utsura" is a japanese expression indicating the 'fluctuation between alert wakefulness and a state of half-sleep'. Or at least: I was told that it means something like that…can anyone confirm this?
True or not, this is exactly what this hour-long mix is about: between being awake and half asleep. Sigur Rós, Arve Henriksen and Helios may be your grip to reality in this somewhat abstract, sometimes hallucinatory sound.
This mix was created in january/february 2009.
UTSURA-UTSURA PLAYLIST:
0.00 – FM3 – Loop 3
(Buddha Machine v. 20; 2008)
1.07 – Andrey Dergatchev – Piano
(The Return; 2005, ECM 1923)
3.25 – [none] – 4 Figure Counting 10 Rough Tones
(Conet Project; 1997, Irdial ird059)
3.58 – Alan Howarth – Into the 8th Dimension
(Real Hollywood Sound Effects; 1997, GNP Crescendo GNP8054)
4.34 – The Caretaker – Poor Enuncration
(Persistent Repetition of Phrases; 2008, Install INST002)
5.50 – Daniel Lara – Kaaiatae
(Nuzita.net; 2008, nuzita.net/konfort -)
7.30 – Horchata – Basement
(Isolated House; 2008, dark winter dw047)
9.22 – Esther Venrooij – Arthur
(Shift Coordinate Points; 2006, Entr'Acte 30)
10.14 – Colin Potter and Paul Bradley – Cavity
(Behind your very eyes; 2003, ICR icr37)
12.15 – Nomad Palace – Northern
(Favourite Places; 2007, Audiobulb ab016)
12.55 – Aaron Ximm (the Quiet American) – Starboard
(Maritime Suite; 1999, Echolocations 2)
14.20 – Akira Rabelais – 1483 Caxton Legg, He put away not the wodenes of his flesh (+ various short Spelle mixes)
(Spellewauerynsherde remixes; 2004, unreleased, private collection)
17.07 – Evan Bartholomew – Reborn, we fluctuate and fade
(Caverns of Time; 2007, Somia 001)
19.15 – Arve Henriksen – Sorrow and its opposite
(Cartography; 2008, ECM 2086)
20.30 – FM3 – Loop 1
(Buddha Machine v. 20; 2008, Buddha 02)
21.17 – Controlled Dissonance – Theme for Spooly
(This is what it sounds like when drones cry; 2006, Intelligent Machine Prod. IMP021)
22.45 – Lawrence English & Ai Yamamoto – Longing
(Plateau; 2008, Post Everything PS07)
23.57 – Arsenije Jovanovic – Athos – Montana Sacra
(Athos – Montana Sacra; 2006, CCnC Records)
26.42 – Arve Henriksen – Recording Angel
(Cartography; 2008, ECM ecm2086)
29.41 – Chris Watson – Cima Verde
(Cima Verde; 2008, Fondazione Edmund Mach 761118-02708-1)
29.15 – Esther Venrooy & Heleen van Haegenborgh – Interior View
(Mock Interiors; 2008, Entr'Acte E55)
31.22 – Jeremy Bible & Jason Henry – Vryashn
(Vryashn; 2008, Gears of Sand GOS 40)
33.52 – The Caretaker – I saw your face in a dream
(We'll all go riding on a rainbow; 2003, V/VM Test Records VVMTCD15)
35.45 – Cory Allen – Gesemi Tropisms
(Gesemi Tropisms; 2005, trans>Parent Radiation TRANS004)
37.35 – Náhvalur – Remora
(Aboideau; 2008, Mystery Sea MS46)
38.58 – Blindman Saxophone Quartet – Four2 – polyphony with aleatoric time shifting
(Multiple Voice; 2002, Universal Music 472596-2)
42.38 – Hilary Jeffery – Announcement
(Solo Trombone & Electronics 2; 2007, FMR 210-0906)
44.08 – Sigur Rós – Straumnes
(Með Suð Í Eyrum Við Spilum Endalaust; 2008, EMI 228 7282)
45.16 – Ruth Anderson – I Come Out of Your Sleep
(Sinopah; 1998, Experimental Intermedia XI 118)
48.18 – [none] – Kones Kones
(Conet Project; 1997, Irdial ird059)
49.34 – Angus Maclaurin – Sea Shanti
(Glass Music; 2000, Bubble Core Records BC-032)
50.23 – David Kristian & Ryosuke Aoike – Kenzobutsu
(Ghost Stories; 2007, Cocosolidciti CDC014)
51.49 – Helios – Hollie
(Caesura; 2008, Type Type042)
56.17 – FM3 – Loop 3 + 1
(Buddha Machine v. 20; 2008)
56.26 – [none] – Ready Ready
(Conet Project; 1997, Irdial ird059)
Download Utsura UtsuraNow 91Mb (59 min.)
[Surround-version (DTS.Wav) here]
[total: 1,751 - today: 1]