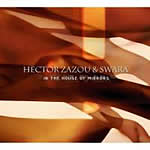 When you listen to this album you hear quiet (Indian) Music – tambur, oud, violin, slide guitar, flute – with an occasionally added non-indian touch (like the trumpet of Nils Petter Molvaer, or (REM's) Bill Rieflin's percussion).
But when you listen closely you will hear all kinds of things are happening behind this music.
Fragments and splinters bounce around like light in a house of mirrors (hence the title, of course).