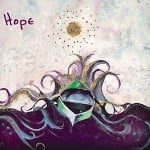 The brand new Fluid Audio label kicks off with a promising start: a compilation album donating 50% of its profits to charity. (Toybox Charity foundation, supporting latin america's street children).
One may wonder how much funds this may raise in times where ambient musicians hardly make enough money to break even on any physical CD release.
Just realising the fact that the 'average Guatemalan street kid' has an average life expectancy of four years should make you buy this album.
But the music included proves to be rewarding too – raising expectations fairly high for future releases on this label.
In fact the label's second release "Licht und Schatten" by Field Rotation, lives up to these expectations quite easily. Unfortunately it has sold out much too quickly.
Field Rotation is included in this collection with Regenzeit, one of the best tracks on this album.
Other artists include Ishq, James Murray, Ben Beiny, Iambic, and most notably Bersarin Quartett.
The music included is the 'accessible' kind of ambient music  – mostly with a loungey feel and not too experimental (althought that's very personal of course).
By definition, one could wonder if this is ambient music at all – hell: it even has got rhythm tracks!
It's the kind of music you might even hear in a very fashionable bar sometimes.
There are quite a lot of nice surprises in the 13 tracks included, which makes this album a good buy even apart from the charity donation. My personal favourites are the tracks from Field Rotation, Snakestyle, James Murray, but in fact all tracks are worth listening to. I was a little bit disappointed in the Bersarin Quartett track (probably because of last year's brilliant album) just because of the drum track crashing in and (in my opinion) spoiling the atmosphere of the track. But all 'n' all, this album is a perfect atmospheric listen, and a good introduction to those new to the "ambient" sound.
Do not download this album..just buy it and help prolong the life expectancy of at least one Quatemalan street kid!.