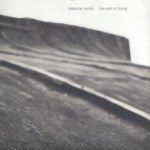 'The End of Trying' is not a 'typical' Dakota Suite Release. Unlike most Dakota Suite albums (except 1999's Navigators Yard) it is fully instrumental, with Chris Hooson, David Buxton and Colin Dunkley playing piano and David Darling playing cello.
The latter fact may indicate the mood of the music on this album: it is extremely delicate, heartbreaking melancholic music.
A 'classic' release that immediately struck me when I first heard it in the beginning of this year.
The track titles indicate the overall mood of this music: How Could You Let Me Go, Things We Lost Along The Way, All The Love I Had Was Not Enough, A Quietly Gathering Tragedy, and not forgetting "Een Langzaam Lekkende Wond' (A Slow Leaking Wound) which reminds us of the fact that Chris Hooson lived in Holland for quite a few years.
This beautiful sad music is clearly not meant to brighten up your day. But it might soothe your sadness with rays of hope shining through empathic, understanding themes and fabulous cello sounds.
'The End of Trying' is one of the most beautiful albums I have heard this year, and it even gains strength with the companion CD that was released shortly after the release of the original: "The Night Keeps Coming In".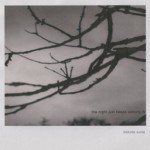 This remix companion album exactly follows the original's tracklisting, all tracks remixed by an impressive list of familiar names from the experimental electronic scene.
Just to mention a few of the remix participants (Machinefabriek, Hauschka, Peter Broderick, Elegi, Deaf Center, Arve Henriksen, Greg Haines, Jacaszek, Loscil) may be enough to get you running to order the record, but unfortunately it was released in very limited edition and sold out quickly after it's release. (Luckily, 'The End of Trying' is still available!)
There's a distinct difference in the mood of both albums, due to its instrumentation. While the original is heartbreakingly pure in its acoustic setting, the remix album is more haunting, ghostly and, in a way, darker.
When I decided to dedicate a Folio radio show to these albums I did not know that this would in fact also be the last show I'd compile for public radio: Folio (and some other programs) was to be cancelled shortly after this broadcast, due to budget restrictions and Radio 6 deciding to focus more strictly on jazz music – leaving no place for undefinable experimental 'niche'genres.
So in a way, this show also marks the end of my contributions to dutch public radio…"The End of Trying", indeed.
For a 'last show', I cannot think of any music more appropriate than this!
Playlist:
1. Arve Henriksen – The End of Trying (2)
2. Dakota Suite – The End of Trying part I (1)
3. Dakota Suite – How Could You Let Me Go (1)
4. Jacaszek – How Could You Let Me Go (2)
5. Loscil – Things We Lost Along the Way (2)
6. Dakota Suite – Things We Lost Along the Way (1)
7. Elegi – All The Love I Had Was Not Enough
(2)
8. Dakota Suite – All The Love I Had Was Not Enough(1)
9. Dakota Suite – The End of Trying Part III (1)
10. Hannu – The End of Trying Part III (2)
11. Peter Broderick – This Failing Sea (2)
12. Dakota Suite – This Failing Sea (1)
13. Dakota Suite – A Quietly Gathering Tragedy (1)
14. Hauschka – A Quietly Gathering Tragedy (2)
15. Dakota Suite – Very Early One Morning on Old Road (1)
16. Deaf Center – Very Early One Morning on Old Road (2)
17. Machinefabriek – One day without harming You (2)
18. Dakota Suite – One day without harming You (1)
(1) – Dakota Suite – The End of Trying
2009; Karaoke Kalk CD 49
(2) – Various Artists – The Night Keeps Coming In
2009; Navigators Yard NY001
Folio Archive:
Dakota Suite Special