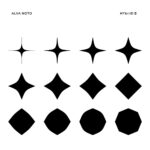 2023 is a very good year for Alva Noto fans. Two soundtracks were released earlier this year (Kinder Der Sonne and This Stolen Country Of Mine), and now we find the second edition of the HYBR:ID series he started back in 2021.

Strictly speaking, this is a soundtrack once again. Or better: a performance score.
Like HYBR:ID I, this music is commissioned work created for a Richard Siegal choreography: this time Ectopia, performed by Tanztheater Pina Bausch in 2021. The stage setting for the performance was Anish Kapoor's Shooting In The Corner. That 'hybrid' combination of dance, sound, and physical installation must have been quite an impressive, multi-sensory experience.
Isolated from the performance and its setting, the soundtrack is equally impressive. Alva Noto (Carsten Nicolai) creates immensely deep soundscapes 'gracefully hover, reminiscent of celestial bodies orbiting in perfect cosmic unison. The sonic landscape gradually unfolds with somber and brooding tones, incorporating spacious sound design, ethereal atmospheres, and cascading metallic percussions'.
Carsten Nicolai's 'intricately manipulated digital production' is analytical and emotional at the same time. It's almost as if we already entered the era where digital machines show that they, too, have emotions.
ALVA NOTO – HYbr:ID ECTOPIA QUARKS MINUS
---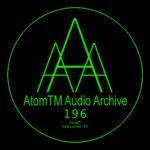 After featuring Texturen I, II, and III, I somehow lost track of this excellent series by Atom™, one of the aliases of Uwe Schmidt. Only recently I found out that edition VI was released last September. A good reason to revisit the series (and the missing editions). And, as expected, this did not disappoint.
Once again, Schmidt explores the texture of (electronic) sound in a 54-minute drone-based piece. For some reason, the piece is split into six nine-minute parts, but it clearly works best when listened to sequentially – a gapless bonus track is included in the download to facilitate this.
The bonus track is presented in the standard 44.1kHz/16-bit format, but the separate tracks are available in hi-res 96 kHz/32-bit. And that is no unnecessary luxury because these sounds are best enjoyed on a hi-fi system, capable of reproducing the massive lower sub-bass sounds involved.
The foundation of Texturen may be a drone, but there's a lot happening above and beyond that basic ingredient. Sounds are constanly morphing, increasing in intensity, disappearing again, changing shape – some soft and rounded, others sharp with teeth.
There couldn't have been a better title for this series: this is an in-depth exploration of all possible textures of sound.