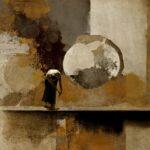 Valley Of The Hummingbirds is one of the albums that are parts of the 'Maps To Where The Poison Grows' subscription series. Subscribing to these series on the Lost Tribe Sound label means that you receive it at a reduced price, as a reward for your faith in the label release policy. But Lost Tribe Sound is kind enough to also present the album as a regular release for those who do not want (or cannot afford) a full subscription.
From The Mouth Of The Sun is the name of the duo formed by Aaron Martin and Dag Rosenqvist. The music on this album was originally written for the dance performance by Greek choreographers Danae & Dyonisos, but was adapted to fit an album release.
The opening track, The Herd (Murmuration), starts slow and quiet but gradually builds up to a frantic rhythm-driven piece of post-rock proportions. With its 20 minutes, this is the longest track on the album. It is followed by two tracks shorter in length (The Medusa and Dandelion, each around 10 minutes) – somewhat more subdued at the beginning but also building up to rather intense climaxes. The Herd (Murmuration) and Dandelion are then reprised in shorter (5-minute) versions.
---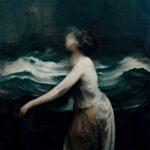 Claire Deak's Sotto Voce is part of the same subscription series Maps To Where The Poison Grows. While the compositions sound like they were conceived recently, they are in fact loosely based on the works of early baroque composers Francesca Caccini and Barbara Strozzi – both early 17th century.
Claire Deak extensively mentions the sources for the music as well as for the titles, but her interpretations are definitely contemporary and sound nothing like the original work of these composers. So all credits due to Claire Deak!
She is not performing this work alone, by the way: the Sotto Voce Consort is completed with Lizzy Welsh (violin, viola da gamba), Judith Hamman (cello), Tony Dupé (violin, cello, contrabas), Edwina Cordingley (baroque cello), and Lucy Adlington (lute). Claire Deak herself additionally performs many different instruments, as well as adding her voice.
Sotto Voce: 'soft voice' – a quiet voice so that only people near can hear. But also: intentionally lowering the volume of one's voice for emphasis.
If you're interested in contemporary music that combines classical influences with modern composition techniques, I can only emphasize, in my own soft voice, that you should definitely listen to Claire Deak's 'soft voice'.
For what it's worth: this music was recorded 'in a 19th century wooden church on unceded Wurundjeri-Woi Wurrung Country'. Which, as far as I can feel, definitely adds to the atmosphere of this album.