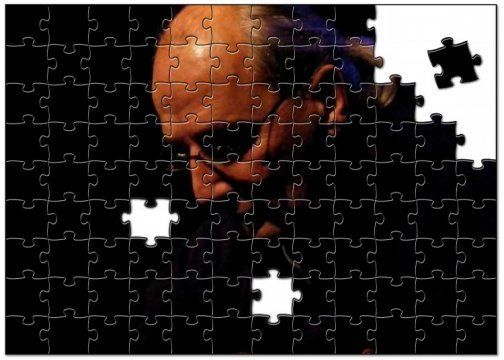 Let me begin with a warning: this mix is quite unlike the previous ones!
Though there are quite a lot 'ambient moments' to enjoy, it cannot be qualified as 'ambient music mix' because it contains a lot of other musical elements too.
This mix was created especially for Frans Friederich – a dutch musician currently working on a megalomaniac project he started in 1997: Recyclopedia.
One single full CD for each letter in the alphabet.
26 CD's recycling and rewriting musical history associatively…!
Frans Friederich's musical history shows a variety of styles: he played in jazz-, ska-, and big-bands, but also in experimental acts like Dull Schicksal and Trespassers W.  This musical diversity is also heard on the Recyclopedia albums: it's a musical roller coaster ride with Friederich himself joining the musical extremes in his own personal style.
In 2009, Friederich completed the "Recyclopedia Q" album – which contains beautiful ambient music created together with soundscape artist Robert Kroos.
(So, by now, about 65% of this project is finished – with this average output the entire Recyclopedia will be completed around 2017!)
When I started this Recyclopedia mix, I originally wanted to focus on the many ambient music pieces throughout the series, creating an ambient mix and leaving out all other music. But the nature of the project decided otherwise.
A pure ambient mix wouldn't do justice to the diversity of the Recyclopedia. So, in the end, the project became more of a [R]adiophonic [R]emix collage, a bit of a [R]oller Coaster [R]ide in itself.
Not all of the Recyclopedia CD's are included, by the way, because I wanted to keep the mix length to an hour and some of the work did not really fit the direction of the mix.
When all goes well and as planned, this mix will be released as Recyclopedia [R] (Radiophonic Remix) somewhere in 2010.
More info about the Recyclopedia project (including extensive liner notes for each single CD) can be found [here].
(Unfortunaly for foreign visitors: the website is in dutch only but if you want more information you can of course contact Frans Friederich by mail).
RECYCLOPEDIA REMIX PLAYLIST:
00:00 – All Heavens 3 (H-3)
00:10 – Gootsteen #2 (G-2)
00:36 – Golven #2 (G-7)
01:22 – Drie Bellen (E-7)
01:39 – All Heavens 3 (H-3)
02:07 – Manifestations of the Mind (M-4)
03:48 – Initiation (I-2)
05:48 – Strijd (E-8)
05:51 – Kadans (K-1)
07:14 – De Vlucht – Ontberingen (C-5)
09:35 – Kangaroe (K-2)
09:52 – Golven #3 (G-8)
11:06 – Psalms – Promised Land (P-9)
12:48 – Onze wens is (C-3)
13:32 – Live – LaRue (L-13)
14:11 – Vaar-wel (E-14)
14:32 – Part 15 (A-15)
16:12 – Dharamsala (D-7)
18:04 – Unmanifested (Q-1)
19:11 – In Memoriam (I-6)
20:18 – The Synodic Moon (Q-3)
21:32 – Desolation/Duchamp (D-3)
22:18 – The Synodic Moon (Q-3)
24:11 – Peace, Pt. 1 (P-5)
26:43 – F für Friede (F-11)
30:36 – Karma (K-3)
35:05 – Uitstrooing (E-9)
35:12 – The Origin that is also You (Q-8)
36:44 – Sepia Coloured Memories (Q-4)
38:11 – Royal Star Bazoonya (C-20)
38:16 – Deserts (D-4)
42:22 – Peace (Friederich Remixed) (P-7)
47:33 – Gedrup (G-10)
48:23 – Gasten (G-9)
48:58 – Motions (M-1)
49:34  – Give me a Sign (Q-2)
50:32 – Boot (B-1)
51:04 – The Morning Star of Gemini (Q-9)
51:10 – Gootsteen #2 (G-2)
52:34 – Klaagzang (E-5)
53:39 – Mankind (M-2)
55:25 – The Cosmos and Beyond (Q-11)
57:18 – Nee Het Zijn Niet Louter Woorden (C-11)
57:00 – All Heavens 3 (H-3)
Music:
Frans Friederich
with the help of:
Robert Kroos, René de Ries, Henk B, Mariette Rouppe van der Voort, Bastiaan Baay, Mickey Timmermans, Cor Gout, Margriet Buitenhuis, Banten van Leer, Hajo Doorn, Saskia Leenes, Albert de Vos, Sebastien Morlighem, Camille Dings, Jacques Palinckx, Michel Banabila, Annelies Vree, Ab Bol, Erik Koppenol, Peter Sterk, Mariëtte Kleizen, Guus Derksen, Hans Pattist, Arthur Skova, John van Tiggelen, Ab Bol, Jan van Wessels, Hugo van Rooy, Katja de Vetter, Pierre Verbeek, Willie Bakker, Hans Tonino, Ron Krepel, Eric Vloeimans, René de Ries, Maarten, May en Moonie Witjes
Mixed in january/february 2010 by Peter van Cooten

Download Recyclopedia Remix Now 100Mb (59:00 min.)
[DTS – Surround Version also available]
[total: 1,157 - today: 1]