Because I was stupid enough to leave my beloved Cowon D2 MP3-player in the train (and no one was honest enough to return it), I had to decide about a new MP3 player.
I am definitely not an Apple fan (for reasons I will not elaborate here), but I was tempted to go for the (G3 32 Gb) iPod Touch, simply because of all the extras it has to offer besides the simple MP3 function.
The first app to go for was Brian Eno's "Bloom" – only to discover that Bloom was recently followed up by Trope, also created by Brian Eno and Peter Chilvers.
A third offspring of this generative music applications is "Air", containing the vocal samples of Sandra O'Neill.
The good news: obtaining all three of these apps will not even cost you EUR10 ($13)!
All three of these programs are very simple to use, but incredibly effective in its ambient beauty: start it, create a mood, tap the screen for generative seeds and then just let the composition flow…
"Air" obviously is what Brian Eno must have been envisioning when he created his Music For Airports album in the seventies, long (long!) before technological possibilities like this…
Brian Eno also was the one to recognise the power of the Generative Music engine created by Sseyo Koan. It went unnoticed by most, because it was about 50 years ahead of its time (and required some specific hard- and software). Koan was a tool for creating music and was quite tough to handle because of its complex interface.
These apps are different: they are 'mass media applications', with a simple, intuitive interface, available for just a few bucks, and playing for hardware commonly available.
I would be exaggerating when stating these applications justify buying an iPod/iPhone. But on the other hand: when investigating Eno's Generative Music in 1997, I had to invest in the SSEYO KOAN software, as well as a new computer with the Soundblaster AWE32 soundcard…which was an incomparable investment compared to these apps.
Imagine "Neroli" and/or "Music for Films", evolving and changing for hours and hours….You can't really go wrong on these apps…!
To give an idea of what these apps sound like I have recorded some short samples (about 5 minutes each).
Bear in mind that these are just recorded versions: they can vary in mood or sparseness, as you trigger the samples with your fingers on the multi-touch screen.
You will not be able to recreate these particular instances – that's the nature of generativeness!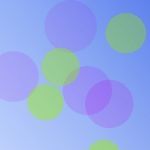 Brian Eno – Bloom (sample)
the original application, lighthearted tinkling sounds.

Brian Eno – Trope (sample)
based on the same idea but much 'darker' in atmosphere.

Brian Eno – Air (sample)
vocal samples by Sandra O'Neill recreating the original "Music for Airports" classic.
Obviously, all of these applications are available in the iTunes application shop.
[total: 3,582 - today: 1]