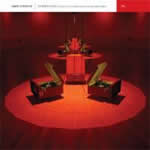 At first listen, the 'post-classical' music on Janek Schaefer's new CD "Extended Play (Triptych For The Child Survivors Of War And Conflict)" resembles the quiet peacefulness of the compositions of Arvo Pärt – especially in the beautiful 24 minute piece "acoustic ensemble".
But there are some disturbing details: most artist would go a long way to avoid the vinyl crackle-and-pops for a CD release like this. The parts of the acoustic ensemble piece are also represented as solo piano, cello and violin piece, which contain some stops and re-starts breaking the flow of the composition quite unexpected.
Janek Shaefer is, after all, not primarily know as a post-classical composer but as a 'turntablist'….
The installation picture on the cover explains the performance we hear: