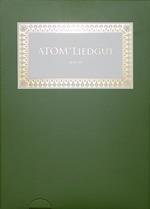 If there is a link between Kraftwerk and Latin Music, it can be pin-pointed down to one man: Uwe Schmidt, aka Senor Coconut.
His CD 'El Baile Aleman' (2003) was full of a stunning arrangements of Kraftwerk tunes in a latin big band fashion – gotta hear it to believe it.
The music and sounds on Liedgut, recorded under the Atom TM monniker, is the complete musical opposite of this hot-blooded latin Senor Coconut sound.