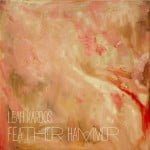 Sometimes an album comes along that is difficult to define, because it doesn't seem to conform to what may be considered as a single 'style' or a 'genre'.
Albums like that usually take a few extra listens to definitely make up your mind, but they prove to be the more interesting in the end – they don't easily fit the current consensus because they create their own style definitions.
"Feather Hammer" is one of such albums.
Some of Australian-born composer Leah Kardos'  favourite composers are Ravel, Shostakovich, Terry Riley, Gavin Bryars and John Tavener, but she is also firmly rooted in the indie pop scene, so you'll also recognise some inspiration from David Bowie, Björk, The Smiths, Brian Eno, Aphex Twin, Amon Tobin, Sufjan Stevens and The Flaming Lips. The fact that she also composes film scores may explain why she can easily switch moods so very fast while still staying true to her own personal musical idiom.
"Feather Hammer" is dedicated to Leah's childhood piano teachers. "DFACE" includes some spoken instructions to study the chord progression of this truly sparkling piano track.
From there, the album gradually gets more experimental, electronic, 'glitchy', and somewhat darker before returning to more familiar forms.
The closing track is a reprise of the album opener, but with upfront piano (in, let's say, Nils Frahm style) that is left out in the opening version.
It's obvious that the piano is the center instrument on this album, but it's the use of recording techniques and special recording effects that really make the difference.
"Apology", for example "is comprised of piano parts recorded at 3 different distances, superimposed as layers which created some really interesting frequency masking effects.", Leah explains. "In some places it sounds like a humming choir is singing a counter melody inside the oscillating harmonies, at other times the odd higher frequency will break through sharply from behind the notes – somehow making the music feel more emotional for me, as if it were unstable and fragile."

If it sounds fragile or unstable, that only underlines the solid quality of these compositions.
I guess that's what makes this album such a pleasant surprise to listen to.

Leah Kardos – Dura Mater

– (Also on Spotify)