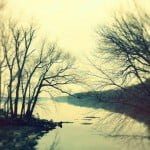 Following up Leonardo Rosado's "Mute Words", this is the second release on the Heart and Soul label, which was founded to release projects that combine music and poetry.
The Dwindlers are a duo consisting of Michelle Seaman, poet, and Benjamin Dauer, composer and multi-instrumentalist. Although they have been working together since 2002, "Allegories" is their second album, following up their 2010 debut release "Dreams".
There are seven tracks – six vocal tracks divided by a beautiful ambient instrumental track called "Pickering's Hyla".
Benjamin Dauer's main instrument is the acoustic bass, creating the basic rhythm which is further coloured with atmospheric ambient sounds that perfectly fit Michelle Seaman's incredibly sultry vocals.
To me, her voice has about the same hypnotic quality as Laurie Anderson's, especially in the slow, dreamy tracks.
"'Allegories' is an effort to change stories of pain and fear into stories of grace. Inspired by the elegant movement of animals, birds, and insects, this collection hopes to charm, and sometimes challenge, the listener."
It will be released on March 15, 2012, and will be available as a digital download, but also in a limited physical (paperbook) edition of 50. Because of the limited physical release, pre-ordering is advised if you want a physical copy.

The Dwindlers – Peacock and the Kitty