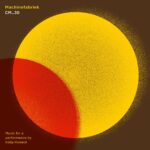 MACHINEFABRIEK – CM_30
Using ambient/electronic music and soundscapes as music for film, theatre, games, performances of in exhibitions is far from unusual. But I guess Rutger 'Machinefabriek' Zuydervelt is the first composer to create a score for a "light and juggling performance".
The music on CM_30 is created for the performance of German circus artist Kolja Huneck. With its 50 minutes, CM_30 is not a circus act but a standalone performance: a mix of "contemporary circus and installation art, [in which] a synaesthetic environment is created by using light and colored translucent discs." The name refers to these discs, which are 30 cm in diameter.
CM_30 promises to be "a contemplative walk through a world of shadows and colours". Machinefabriek's soundtrack is just that: introspective and contemplative, while slowly building up tension throughout with the music getting more intense before finally receding into quiet again.

Listening to the music and looking at the pictures of the performance I can imagine that this must be an impressive experience. The performance schedule mentions future performances in Lithuania, Belgium, and the Netherlands later this year. Those that cannot attend one of these performances will have to do with the music, which is satisfying enough in itself.
But I strongly advise leaving the indoor juggling to Kolja Huneck!
---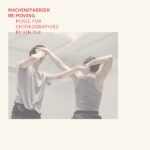 The Covid pandemic has affected many people worldwide, not only physically but also making it impossible to work for many. That is especially (but not exclusively) true for artists working in the entertainment industry who could not perform their work publicly. Others, who could be working from home or from their studio, may have felt less impact. I don't think that Machinefabriek has been less productive than usual, to name an example. But that does not mean that his work was not affected.
Take, for instance, the music he wrote for these two choreographies of Yin Yue: Music For A Measurable Existence and Re:Moving.

Writing music for a contemporary dance score must involve a complex and intense period of working together. Imagine how disappointing it must be when both performances were cancelled due to COVID!
Zuydervelt and Yue agreed that the score deserved to be heard "even without the choreography that birthed it". A bitter pill to swallow – but a justifiable decision.
Music For A Measurable Existence is a high-energy composition that demonstrates the many different sides of Zuydervelt's compositional skills in one 20-minute composition displaying his "unusual sonics and love of nonstandard rhythms".
Re:Moving will also make you sit up straight because of its rather intense climaxes. It features the beautiful violin of Anne Bakker, who worked together with Machinefabriek on various occasions: Halfslaap, Crumble and Deining come to mind but these are only a few of the projects they did together.

As sad as the story is for the choreographies of Yin Yue, it was a wise decision to release the score. Hopefully, the performances will still be performed in the near future.