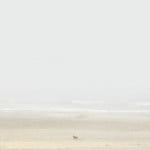 Judged by its title ánd by its music, "Halfslaap"  (Half-Sleep) could have been a new release in the fascinating Slaapwel-series. But, surprisingly, it isn't. This is part 6 of the Rural Route subscription series, as released by Standardform.org.
All issues of this series have been released on extremely limited (150 copies each) 3″CD's, including a digital download of the music.
But, to keep things exclusive (and satisfy collectors), the download option ends when the title is sold out!
The basic sound material used for "Halfslaap" is quite different from most ambient/drone music, and also quite different from most of Machinefabriek's music.
The 17 minute track starts with lighthearted sounds that reminisce the musical box used to help babies and little children fall asleep.
While the track progresses, the sound slowly loses focus and gently deteriorates, without abandoning its comforting, lighthearted nature. This way, it tricks you into the beautiful sensation of falling asleep slowly.
Just like the musical box from your childhood did, slowing down when its spring exhausted.
"[..Halfslaap..] provides a long form lullabye for the hazy journey from reality into the dreamworld. It is a score for the strange sensation of heavy limbs as sleep slowly washes over the body."
The music on "Halfslaap"  originated from a one minute soundtrack for a video poem by Jani Sipilä,
which, unfortunately, I have not been able to track down.