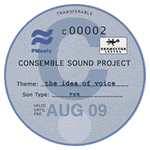 Quite some time ago, I wrote some entries about the fascinating concept of Generative Music: music that is different every time you play it – the missing link between recorded and live music.
SSeyo Music introduced their fascinating concept as KOAN software – a brilliant package that was released about fifteen years ahead of it's time.
Brian Eno was on of the first to pick up on this concepts, because it fitted perfectly to his multi-CD installations.
Read more about this here and here, but be sure to get back to read on.
(Side Note: this software still exists: it's called Noatikl now. )
So the concept of Generative Music is as fascinating as ever. Enter Parallel Music, or PMusic – (as opposed to RMusic: Recorded Music).