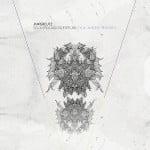 Well here's for something completely different!
Usually, ambientblog is not the platform to promote portuguese electronic pop music – however adventurous it may be. But after releasing Lylac – adventurous electronic cut-up pop music featuring Melissa Veras on vocals, :papercutz main performer Bruno Miguel  grew fond of the ambient genre ("much because of my love for movie soundtracks") – and somehow managed to an impressive list of ambient music artists to rework the music on Lylac.
To get you interested: "Do Outro Lado De Espelho – Lylac Ambient Reworks"  contains remixes by folks like Helios, Emanuele Errante, Simon Scott, Taylor Deupree, Autistici, Christopher Bisonnette, Jasper TX –  and that's not even everybody on the list!
Names like that are enough to trigger anyone interested in contemporary ambient music to check out this album.
I was going to write "to run to their record store" – but I'm afraid most records stores will not stock music like this so you might check out the audiobulb website to order it directly from there.
While Lylac  is adventurous enough to be enjoyed in it's own right (one seldom hears an album defying the borders of different genres so effectively) – for Do Outro Lado De Espelho ("From the Other Side of the Looking Glass") Bruno Miguel can be credited for opening a whole new perspective on ambience in music.
It still pop music, still, but with a dreamy, ethereal and cinematic twist seldom heard otherwise.
All remixing artists add a personal dimension to the original tracks. Their work is not ambient music in the 'soothing'sense: some of the reworks are emotionally quite harsh confronting.
But on the other hand there's some extremely romantic and touching remixes, like the Taylor Deupree version of Do Outro Lado de Espelho or the Helios Lylac remix.
Ambient music has its own unwritten conventions of how it should sound, of when it's "deep" and of when it might even be "art". From out of nowhere, this stunning :papercutz release overthrows all conventions and shows there can be a perfect blend of ambient-, electronic and pop music.
All contributors to this album should be credited for that, as well as audiobulb for releasing a gem like this
"'Do Outro Lado de Espelho (Lylac ambient reworks)' marks the end of a chapter for :papercutz and simultaneously opens a door for a new one." Bruno Miguel states.
So who knows what the future may bring…!
:Papercutz – Do Outro Lado Do Espelho (Taylor Deupree remix)