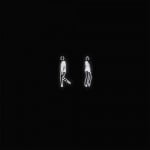 Next to Johann Johannsson and Ólafur Arnalds, Max Richter is one of the pioneers of the 'post-classical' genre, a mixture of classical music, electronic sounds and rock music influences.
Mostly the compositions in this genre are suble and not too complex, often slightly (ore not so slightly) melancholic – the kind of music that feels and sounds like it's written to be a (movie) soundtrack.
So it should not be a surprise that Richter's Infra was originally written as a score for Wayne McGregor's ballet as performed by the Royal Ballet.
For CD, Infra has been adapted and expanded to fit the CD format and to be enjoyed without the ballet. Infra is Richter's eighth' album since 2002, and it's his fourth for the 130701 label, a sublabel of Fat Cat featuring artists like Set Fire to Flames, Sylvain Chauveau and Hauschka, among others.
Opening with distorted shortwave-radio fragments and morse-code, one may get the impression that this is gonna be one of those albums of extreme electronic drones – but soon the intensely melancholic string session comes in, presenting Infra's main theme. From that point on, the album's beauty may definitely grab you by the throat.
Whether it's the clean electronics, the stretched orchestral drones, or the Philip Glass-like violin and piano parts, Max Richter sure knows how to combine these elements to a single organic composition.
There have been quite a lot memorable albums in the post-classical genre. Infra definitely is one of the best and most impressive.
(Note – A BBC documentary about the ballet project as well as a full performance will be released on DVD later. But the musical score will be different from the reworked pieces on this album)