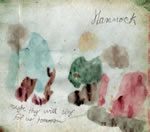 The 'making of' of this album is a nice story to tell:
Hammock (Marc Byrd and Andrew Thompson) released three full albums (not counting 'The Sleepover Sessions') since 2005.
Most of these filled with quiet, guitar-driven 'post-rock', with some crossover to the ambient realm.
If that description sounds a bit like Sigur Rós – so does some of their music.