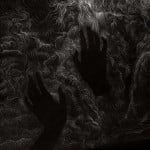 Although their debut "Fyris Swan" was released in 2006, Solo Andata gained the recognition they deserved with the release of the "Solo Andata" album on the 12k label in 2009.
The fact that their work was mastered by Taylor Deupree and Giuseppe Ielasi – household names in the world of ambient / electronic music – will probably have helped to attract the attention, but the music created by Kane Ikin and Paul Fiocco in itself was (is) impressing enough to immediately classify Solo Andata as 'classic material' of ambient soundscapes.
Their new album, "Ritual" is the debut release of a brand new label: Desire Path Recordings.
And what a debut it is to start a new label with!
"Ritual" is a further exploration of the landscapes that were explored on the earlier Solo Andata releases. "Soundscapes that are as much 'electronic' as they are 'acoustic'" – otherworldly impressions drawn from organic sounds like gongs, bells, bowls, wildlife and environmental recordings.
The list of sound sources also includes "the vibration of human cancerous cells" – which may be an indication of the eerieness of this album – as is perfectly visualised by the cover art.
The aural landscapes on "Ritual" are dark, brooding and seemingly cast a spell on the listener from the first to the very last minute.
"Aggregate" , the opening track, is the most 'aggressive' piece of the four tracks on this album. It seems to blow the cobwebs out of your mind to prepare you for what's coming up next. But once past this sonic barrier, a beautiful, dark brooding atmosphere prevails.
Compositionally, the album is divided in two parts: the first three tracks are written by Paul Fiocco, the fourth – the 20 minute long "Incantare" – is written by Kane Ikin.
This time, "Ritual"  was mastered by James Plotkin.
I'm not a person that creates 'best of…' lists by nature, but from the first time I listened to this album I knew this was gonna be one of my favourites. And after almost continuous play it still is.
"Ritual"  is released as a limited edition 12″ LP (also available in a 'special art' edition), but it's also available as digital download.