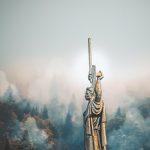 In March and April, two volumes of For Ukraine were released, two compilations to raise support for the International Rescue Committee (if you are not familiar with them check them out: Volume 1, Volume 2, and – for an overview – perhaps also the mix I created with music from these two).
The first two volumes raised over $17k, but since the last campaign was triple matched, the total even went up to $31k!
Unfortunately, your support is still needed: the war is still going on and there are no signs that it will end soon.
For Ukraine Volume 3 helps to make your decision: presenting 20 tracks (94 minutes) curated by none other than Rafael Anton Irisarri.
It's a 'who's who' of contemporary ambient/post-classical music featuring many familiar names and also some less familiar. The quality of the music is exceptional, but that is something that's clear when browsing contributors such as Olga Wojciechowska, Clarice Jensen, Claire Rousay, Abul Mogard, Arovane, Mike Lazarev (who presents this series through his Headphone Commute site), Lubomyr Melnyk, Eluvium, Taylor Deupree, Christopher Bissonnette, Markus Guentner, Joachim Spieth and Ian Hawgood.
And that list isn't even complete.
So, as a compilation, this is what we can call a 'no-brainer'. And with the cause it supports, it's a double no-brainer. Or triple, to be exact!
---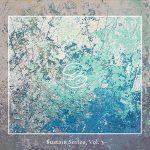 Another third edition in a compilation series is this third edition of the Sustain Series, of which Volume 1 was released in November 2020, and Volume 2 in July 2021.
The Sustain Series is also a charity compilation series: in this case (as the name suggests) for the Eden Reforestation Projects: projects to restore forests together with local communities "on a massive scale, thereby creating jobs, protecting ecosystems, and helping mitigate climate change'.
The concept of sustainability is taken quite far: many of these tracks are 'recycled' versions: reworks demonstrating what can be achieved when on person's trash can be another's treasure.
And there are quite some treasures to be found here, in this two hour and twenty minute compilation of 27 tracks. So: yet another no-brainer!

"Volume 3 seems to blend as a continuous, drone-focused, collective understanding of what needs to be heard and felt." Among the participants are Anthéne, Gallery Six, Henrik Meierkord, Jolanda Moletta, Rinnovare, Halftribe, Seabuckthorn, Marine Eyes, Karen Vogt, Hilyard, Logic Moon – but there are many more.

With so many different artists, the music is remarkably well matched: "Volume 3 seems to blend as a continuous, drone-focused, collective understanding of what needs to be heard and felt."