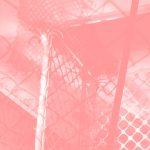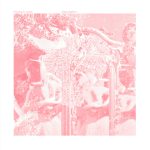 As Pinkcourtesyphone, Richard Chartier has developed a personal style that differs from the releases under his own name. In his own words: "Pinkcourtesyphone is a more emotional, dare one say musical side of Richard Chartier's work. Pinkcourtesyphone is dark but not arch, with a slight hint of humor. Pinkcourtesyphone is amorphous, changing, and slipping in and out of consciousness."
These two releases (again) demonstrate what this means.
All Intensive Purposes, released on Room40, is a set of seven relatively short soundscapes that 'can be best characterized by one word — charm, well, maybe two words — questionable charm.' It is a strange combination of distant loops, layered sounds and 'ghostly utterances', a hazy sound as if coming from a distant dream that would perfectly fit the set of The Shining. "Catastrophe muzak", perhaps, but also a pleasurable listen.
Compared to All Intensive Purposes, the four tracks on Shouting At Nuance are much longer: between 14 and 27 minutes each. The two longest tracks (Problematic Interior 3 and Alternatory) were previously released in 2019 as part of On Corrosion: the 10 cassettes set housed in a wooden box that was released to celebrate the 50th release on the Helen Scarsdale Agency. A cult collector's item by now, so it's a good thing that this label decided this was worth a re-release.
For this double vinyl release two extra tracks are added: But It Felt/In Other Dreams and She Who Controls. These were álso previously released as a cassette: in 2017 on the Tapeworm release Something You Are, Something You Do. So no news perhaps for the die-hard collectors, but for most others, this will feel like a new release.

The liner note description is as recognizable Pinkcourtesyphone as his music is – and I definitely could not think of a better description myself:
"His search for ghosts on tape sifts through the warbles, clunks, notes, and beats moistened an smudged through a mid-to-late century antiquity that also pilfers from a variety of moldering vhs tapes and miserable cassingles. […] With allusions to decay as an unrecognizable reconstruction of past works, his ghostly ambience becomes a dub of itself, echoing back a dispersion of drift and drone into a feedback loop of disintegrated memory."
---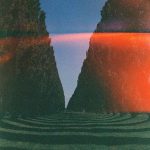 When mentioning physical editions we're usually referring to CDs, Vinyl or Cassettes. Mathijs Leeuwis challenges the true collector with his release on an even more anachronistic medium: Généalogies 2 is released on – wait for it – reel-to-reel tape! In a very limited edition, by the way, so if you're lucky enough to have a working tape recorder, you'll have to be quick (the release date is September 23). But if you're not so lucky: Généalogies 2 will also be available as a download via Bandcamp.
Généalogies 2 is the follow-up to Généalogies (obviously), released two years earlier. It's a further study of imperfection as a tool for creating self-generating (auditive) realities. Leeuwis' starting point was that 'erratic systems create new worlds, which lead to new ideas … Leave, forget and invent again."
Compared to the previous Généalogies, the process is now more generative: define a set of rules and the basic material, and then let them evolve within a more or less controlled system.
Tape and feedback are Leeuwis' main instruments and so releasing it on reel-to-reel is a justifiable (nut bold) choice.
The four separate pieces Généalogies III, IV, V and VI are shorter than the previous I and II: they are only 21 minutes in total. The release also contains a continuous mix of the separate tracks, which is Leeuwis' preferred version.