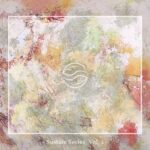 With our world facing a threatening climate crisis, I expect this to be the subject of many releases in the near future – probably including many field recordings.

While not presenting field recordings, Ambientologist's Sustain Series is concerned with sustainability in two different ways.
The proceedings of the releases our used to fund projects working on a sustainable future: Volume 1 raised over $500 for Conservation International, and the revenue of this Volume 2 will be donated to Julie's Bicycle: "a non-profit aimed at mobilising arts and culture to take action on climate change, focusing on high-impact programmes and policy change to make a meaningful impact."

The music itself is 'sustainable' in a different way: the 24 tracks (just short of two hours) are all 'recycled' material in itself, "making use of unfinished, long-lost or bespoke material". With this, the series "promotes an idea of slower consumption, and making use of existing material, while also bridging connections between like-minded musicians."
A well-thought concept supporting an important cause!
Artists include some familiar names but also quite a few lesser-known artists. To name a few of the familiar: Rinnovare, Henrik Meierkord, Logic Moon, Pepo Galán, Anthéne, Sven Laux, Halftribe, Snufmumriko and Gallery Six. Check out the Bandcamp page for the full tracklist details.
Of course, the concept (ánd its length) requires this release to be available as a digital download only: there is no physical edition.
---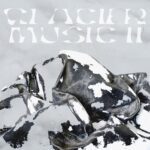 Glacier Music, or Gletschermusik, is a collaboration project commissioned by the Georgian Goethe-Institut in Tblisi. It brings together different musicians who work together in creating works dedicated to and inspired by (the preservation of) glaciers. The project started in 2013, but the first album was released in 2016.
Since then, the situation has only become more urgent than it already was.

This second release of the project is the result of a shared trip to "the icy Greater Caucasus mountains of Georgia" bringing together artists from Armenia, Georgia, and Germany.
Robert Lippok (Berlin, known from To Rococo Rot and from his solo work) may be the most familiar name here. The other contributors are Eto Gelashvili, a singer-songwriter from Tbilisi, well-versed in the polyphony and harmonies of Georgian folk music, Hayk Karoyi Karapetyan, a multi-instrumentalist from Armenia, visual artist Lillevan, and Anuschka Chkheidze, up and rising electronic music producer from Georgia.
Each of them brings his/her different background, and the result is a unique blend of contemporary experimental and traditional music.
The musicians present their work in a different combination on each track. Anuschka Chkheidze contributes her bright and inventive piano playing to all but two of the ten tracks; so Glacier Music II could have been easily credited to Anuschka Chkheidze and Guests.
The project download comes with an extensive 72-page book "with images and texts from
the artists, reflecting on the process of making, the meaning of the environmental message of the project, collaboration, and the shared experience of travel and performance."
This is a PDF download on Bandcamp, since only a digital download is offered there. Physical media can be ordered directly from the Establishment Records label: check their site after the release date (August 20)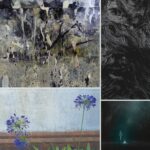 The Lost Tribe Sound label has started a new subscription series called Salt And Gravity Series. This series will include new full-length releases from Tony Dupé, Alder & Ash, 't Geruis, Federico Mosconi, Arrowounds, Sanr, Alapastel, and mastroKristo, which will be released over the next 6 months approximately.
The label describes this series as "by far our most classical / ambient / drone adjacent collection yet."

The Salt And Gravity title comes from a novel by Brian Catling: "The Vorrh":
"One solitary tear crept through the scars of his face, through the diagrams of constellations and the incised maps of influence and dominion. A liquid without a name, it being made of so many emotions and conflicts, each cancelling the other out until only salt and gravity filled the moment and moved down through his expression."

At this moment, Alapastel's Ceremony, and Tony Dupe's Margaret Hammett Lived have been released. Arrowounds The Rise An Fall Of The Melting World will follow on August 27.
Subscribing to the series means that you will receive all of the releases at a reduced price. But the good news is that non-subscribers can still buy the releases: they only pay more per item – ánd of course, accept the risk that the physical edition will run out because of the subscribers' priority.
The introduction to this series, with one track from every featured artist, can be downloaded as a pay-what-you-like download from Bandcamp.