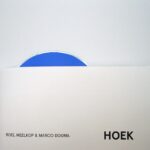 ROEL MEELKOP & MARCO DOUMA – HOEK
Dutch Esc.Rec label releases projects that combine multimedia and often balance (or cross) the borders between music and other art forms.
Hoek is a great example: it combines the soundscape created by Roel Meelkop with a video by Marco Douma, and is presented in a handmade book created by Jeroen Diepenmaat containing stills from the video work. The video itself is accessible with a code found in the book.
Hoek refers to Hoek van Holland, "originally built in the late 19th century as a defense for the Port of Rotterdam. In World War II it became part of the defense line of the Nazis called the Atlantikwall. They built vast underground bunkers in the dunes, many of which are still intact. The other side of the river shows the industry of the Port of Rotterdam, mainly lots of cranes (un)loading containers from the huge ships that bring them here. But de Hoek is also a seaside resort with wide beaches and matching beach clubs, assuring a wide range of entertainment. And, last but not least, de Hoek has a beautiful dune landscape, giving a home to flora and fauna that cannot be found elsewhere."
In 2012 and in 2014 Meelkop and Douma participated in two local exhibitions, their sound/video performance respectively focusing on the surroundings of Hoek van Holland and on the inside of one of the bunkers that are now closed for the public. This 'third edition' is a combination of both of these previous works.
The 54-minute soundscape combines many different moods and approaches, just like Hoek van Holland itself does. The darker electronic parts resemble the atmosphere of a deserted bunker, but it can easily change in the quieter mood of a lovely dune landscape with what sounds like a thumb piano or (electronic?) mbira and environmental seaside sounds.
A dedication to the (somewhat neglected) variety of a town in the corner of Holland (which is literally the translation of Hoek van Holland).
---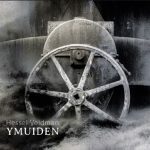 HESSEL VELDMAN – YMUIDEN
Some 70 kilometers north of Hoek van Holland lies IJmuiden, the port city gateway to Amsterdam via the North Sea Channel. Today, January 26 2022, the world's greatest sea-locks (zeesluis) will be opened there: the Zeesluis IJmuiden.
That will also be the release day of Hessel Veldman's latest release Ymuiden, dedicated to the place where he was born and still lives. Note that Ymuiden is written with a Y, not IJ, which is the international spelling of the place's name but may also be a subtle reference to one of Veldman's musical alter egos Y Create.
Ever since the early 80s, Hessel Veldman has explored and produced "uncomfortable music", with a special fascination for "electronic noise and dissonance". His output covers a wide range of electronic experimental music and radio art.

Ymuiden, released on Winter-Light, is a 'dark ambient' project: "an experimental audio sound map of IJmuiden". Using field recordings from the area and combining them with sounds created solely with the Korg MS20 Veldman paints pictures of a cold industrial environment that may not seem inviting at first but reveals its own beauty for those that want to find it.
The seven tracks on this (80-minute) CD all have (hardly translatable) Dutch titles referring to the sea, ships 'concrete dunes', and harbor mouth. They can be quite different in atmosphere and sometimes even hallucinatory. The surges in the opening track Rauw Sluisgelag are almost frightening violent; Stuurlast felt (to me) as if there were many tortured souls trying to emerge from behind the drone – although it could also be a processed recording of a large football crowd. In the 18-minute Scheepskoorts, Veldman takes his time to evolve the Eliane-Radigue-like drone into a complex, all-encompassing sound. Tongrot, on the other hand, combines the sound of a large-scale industrial area (the international fishing area) with faintly audible, almost inaudible, sounds of birds.
In these sonic pictures, Veldman focuses on the "raw labour, the off-shore industry, the steel factory" and the struggle of man to control the water that gives life but can also be threatening if neglected.

Ymuiden was mastered by Martijn Comes, with whom Hessel Veldman released Epox in 2020.
---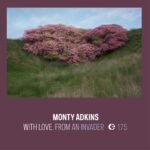 Shortly after his release as Skrika on Cryo Chamber, Monty Adkins treats us with a surprise release on Cronica that musically represents almost the opposite of Skrika's 'dark ambient'.
46 Minutes of field recordings, enhanced (I wanted to write 'enlovelied', but I guess that isn't a word) by Adkins's soundscapes that turn it into an otherworldly experience.

The invader referred to here is the rhododendron tree which "was introduced to the UK by colonial botanists in the late 19th century as an ornamental plant, it is now seen as a highly invasive species by ecologists."

The rhododendron originally comes from China, the motherland of Yan Wang Preston, who in March 2020 decided "to photograph a single rhododendron tree every other day at half an hour before sunset, for a year".
The (environmental) sounds included were recorded on the same location each month.
"Living as an immigrant in a country going through Brexit and COVID, Yan felt a strong personal connection with such invasive plants. They remind her of her homeland as well as the complex perceptions around nature, national identities, landscapes and migration."
Like the seasons changing throughout the year, the 46-minute composition has a natural, uninterrupted flow. But in fact, it is highly dynamic: it is as changeable as the weather itself.
Comparing the Skrika album to his work on With Love, From An Invader shows the versatility of Monty Adkins as artist and sound designer. This can be no real surprise for those familiar with his previous releases.
I have found no links to the visual result of Yan Wang Preston's project, so we'll have to do with the cover image. And with the images that Monty Adkins' soundscape evokes.

Oh, and by the way: this is a Name Your Price release!