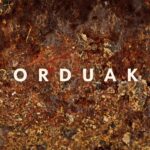 DULLMEA & RICARDO PINTO – ORDUAK
"A vertiginous descent to the depths of a non-place made of desertion and desolation: the meditation of a drunk man, the riddle of an ineffable life, the infinite sleep."
Portuguese artist Dullmea graduated as a violinist, joined several orchestras, composed music for theatre and dance performances. She released three albums prior to this collaboration with Ricardo Pinto, a multi-instrumentalist also from Portugal who graduated with a degree in jazz piano. Since 2005, Pinto has had more than 40 theatrical soundtracks to his name.
Orduak links distorted ambient noise (like in Please Mind The Gap) to post-classical vocal music (Nem Fogo, Nem Vento, Nem Sopro – No fire, No wind, No Whiff, a track that seems to carry the spirit of Robert Wyatt) in a way that simply feels natural.
"We crossed a shattered poem spread over noisy gaps, we rescued a memory of human voice, of language."
The vocal pieces are at the core of this work, a text "with not much meaning but with interesting sounds when said in Portuguese". From there the choir-like pieces were "disintegrated and merged it with darker atmospheres, with electronics and even some noise."
The result is an album so fascinating that it feels like a shame that it had to be self-released. Not that there is anything wrong with albums being self-released, but surely there must have been a label recognizing the sheer quality of this music?

Angelic vocal music linked to abstract ambient sounds, even some noise at times, may sound like an unlikely combination, but Dullmea & Ricardo Pinto manage to make it work. To my ears, Orduak has all the qualities to become a classic – a cult classic at least.
Don't miss it.
---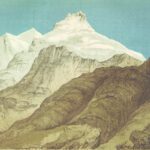 Venetian-based composer Enrico Coniglio demonstrates his love and admiration for the (Alpine) mountain landscape, "the splendor of a landscape that slowly reveals in its dazzling beauty […] an epic landscape in which enchantment and fear are deeply intertwined".
The album is built "on a series of recordings dedicated to the creation of a film sound commentary that finally becomes an autonomous itinerary."
In the ten tracks on Alpine Variations, he paints the landscape using sounds as diverse as the mountain landscape itself. Bright notes of the piano, synth pads, field recordings, found sounds and immeasurable depth of sub-bass low create the atmosphere "poised between quiet contemplation and impending danger."

The mood can change – just like views do in the "strenuous conquest of the top". But now, the listener does not have the hardships that come with mountaineering. Just "close your eyes and prepare to face the journey".