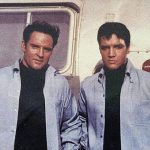 Bill Seaman and Craig Tattersall previously worked together as The Seaman And The Tattered Sail on their massive 2013 project Light Folds, which contained no less than 2 LP's, 2CD's and a DVD. It took them nine years to come up with this new project, which is slightly more modest in quantity – but not in intentions.
This time, it is released on the Fluid Audio label, which means the physical edition is an abundant luxury packaging we've come to expect from this label: not only including 2 CD's but also lots of pages, images, A6 luxury prints, A3 poster, Stamped library print, vintage photograph bookmark, and celluloid negative, and a 35mm film strip of an Elvis documentary. Interesting side note: "the artwork was developed around Seaman's family photo of his uncle 'Twink', a stunt double for Elvis Presley."

The Bandcamp page mentions only the two CDs, but the package also comes with a download code for a surprising set of extra tracks, so the whole collection is almost three hours of "sonic experimental frequencies."
The CD's contain two continuous, uninterrupted sets of instrumental ambient soundscapes performed by Bill Seaman (Ableton Live, vocal, piano, samples, and all kinds of manipulations), Craig Tattersall (guitar, piano, loops, synths, field recordings and all kinds of noises), with the additional help of Emmanuel Witzthum (viola, voice), Wei Ping Lin (violin) and Robert Ellis-Geiger (Trumpet sample recordings).

The album concept is in fact ingeniously constructed. The starting point of this release is in the extra tracks that are included in the download – a set of cover versions of well-known standards like Julie With…, Wild Is The Wind, Perfect Day, One For My Baby (And One More For The Road), Suspicious Minds, Wichita Lineman, Somewhere, You Keep Me Hanging On, Will You Still Love Me Tomorrow and more.
A collection of pop songs "that had meant much to both Seaman and Tattersall through the years".

Hearing them perform these songs in their own peculiar way is an experience in itself and may take a bit of time to get used to. The cover versions are not particular 'radio-ready', I guess. At some moments they bear more resemblance to the music of Scott Walker than to the original versions. But once you get over the initial surprise of this unusual approach, there's a strange and weirdly attractive beauty to be found.

From there, the two (ambient instrumental) soundscapes on the CDs get a completely different context. While not indexed and not separated as separate tracks, the 46 and 51-minute pieces of abstract ambient are created from fragments and samples of the 'pop' cover tracks included in the download.

This way, The Seaman And The Tattered Sail deconstruct their own covers – "winding their way down a path they know well, a path of abstracting abstractions. Creating what Bill named 'uncovers'."
Uncovering covers. Abstracting abstractions. Uncovering 'hidden intentions'.
Fascinating, in their own unsettling way.
The Seaman And The Tattered Sail – Somewhere
---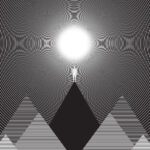 OF1000FACES – NADIR
of1000faces is the solo project of Matt Walker. His name may sound familiar, at least if you're familiar with Morrissey, Smashing Pumpkins, Filter and Garbage – bands Walker has toured and recorded with as a drummer/producer.
Nadir sounds nothing like the music of any of these bands, though. In fact there's hardly any audible drumming on it (though some tracks are percussive and rhythmic).

Nadir is the third part of the Monomyyth Trilogy, following Astronomica and The Infinity Line (September and December 2020). Like many (if not most) recent releases, the music was created during the pandemic. It reflects the quieter, more introspective aspects of this period. It is instrumental, and (in Walker's own words): "primarily ambient, but not strictly so. To be honest I find it difficult to categorize."
There's no explanation of what The Monomyyth Trilogy is about, so you'll have to guess about that. The music itself explores a varied palette of ambient/electronic music, from abstract soundscapes to rhythm-based, from optimistic to thoughtful, some bright, some darker … obviously reflecting all different moods one can have during a pandemic like the recent one. And since everyone experienced that pandemic in his or her own way, probably all can relate to the music on these albums too, everyone in a different personal way.
Like on the previous two trilogy editions, Matt Walker gets some help from his friends: Chris Connelly added his voice to Vast And Unknown, Tom Moth plays harp, Brendan Byrnes adds an occasional guitar, and Jim Dinou plays additional percussion.
Nadir is a digital-only release.