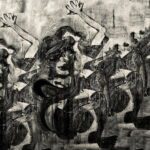 MARTIJN COMES & HESSEL VELDMAN – EPoX
EPoX is the collaborative result of two generations of Dutch experimental musicians: Hessel Veldman has been active in the experimental music scene since 1981, especially in the DIY cassette-label scene. Not only under his own name, but also under aliases like Gorgonzola Legs, and Y Create. Recent times have seen a renewed interest in his earlier works, which among other things led to the release of Eigen Boezem.
(Electroacoustic) Composer Martijn Comes has actively released music since 2008. He graduated from the academy for Digital Communications in 2004 with a thesis on live stage performance with the aid of digital media.

When artists with a background like this start working together, the outcome of their collaboration is worth dedicated attention. The audioscapes on EPoX are intense but in a weird way also kind of relaxing. In two long pieces, they let the compositions take all the time they need to evolve, but can also choose to take an unexpected shortcut involving improvised (electronically manipulated) guitar, or slowly but inescapably build up to climaxes of noise.

The atmosphere (on … Power of Tunnels especially) can be quite haunting at times, due to the use of ghostly whispered ASMR voices and eerie layered effects. (The short video fragment included below perfectly captures this atmosphere).
Part of the haunting atmosphere may have come from the fact that shortly before moving into his new home, Comes had spent a period of time "caring for his mother with the deteriorative ailments of schizophrenia and Parkinson's disease".
He moved into a new home, which environment added an extra dimension: it was "the home of a former doctor who presided over a psychiatric facility nearby. The institution was widely considered more of a prison or penitentiary than a space that provided solace or healthy aid to the well-being of its residents."

The two compositions are presented on two CDs: The Life Long Estimated Power Of Tunnels takes up CD 1, CD 2 presents the 42:12 piece The Indestructible Value Of Panoramic Vision.
Adventurous music – but not necessarily music for the faint of heart: listening is like watching a suspenseful movie shot in black and white – but with many subtle shades of grey.
The 2CD-edition of EPoX is now sold out at the Bedouin label, but copies can still be found at Martijn Comes' Bandcamp site. Of course, it remains available as a digital download.
GiveAway:
Martijn and Hessel give away three download codes for readers that comment on this post (below). Winners will be randomly chosen exactly one week after the post is published.
---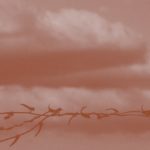 Geneva Skeen is a 'multidisciplinary' artist working from Los Angeles. Her sources of inspiration are "écriture féminine, alchemical metaphors, and a range of musical traditions ranging from holy mysticism to industrial". Since 2016, she has released 4 full-length albums; Double Bind is her second release on the Room40 label.

The title alone reveals that this will be an album full of conflicting emotions:
Double Bind describes "a dilemma in communication in which an individual (or group) receives two or more conflicting messages, with one negating the other. In some circumstances (particularly families and relationships) this might be emotionally distressing. This creates a situation in which a successful response to one message results in a failed response to the other (and vice versa), so that the person will automatically be wrong regardless of response. The double bind occurs when the person cannot confront the inherent dilemma, and therefore can neither resolve it nor opt out of the situation." (Thanks again, Wikipedia)

Geneva Skeen notes that this music was created over the past year, "a bleak but transformative period of time", and thus became "an extraverbal expression of (her) interior experience".
She leaves the interpretation to the listener, with the help of impressions noted by her friend, poet Aristilde Kirby.
Reflecting the turmoil of 2020, and with titles like "Leveled Ground, Bottomless Pit" and "The World Has No Visible Order And All I Have Is The Order Of My Breath", this is not meant as an 'easy' album. But between all doubt and uncertainty, it also radiates a strong self-confidence and fearlessness … so rest assured 'we' will get through this in The Foreseeable Future.
After all, if there is no right answer to a dilemma, this also means you cannot make a wrong decision.