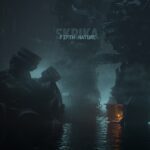 I was quite surprised to learn that this new project on the Cryo Chamber label was in fact a project by Monty Adkins. I never associated his previous work with the kind of dark ambient that is characteristic of this label. But of course, I should have known that Adkins – internationally renowned composer and electronic music performer and lecturer of electroacoustic music at the Huddersfield university – never was one to stick to a formula he already has explored.
For his dark ambient alter ego, he chose the alias Skrika (Swedish for 'Scream'), probably to distinguish this dark ambient work from the projects under his own name.
Skrika's Fifth Nature is the first project in what is to become a series "set in the far distant future". It comes with a full sci-fi story about Earth's imbalanced ecosystem and the failed technological attempts to restore it. The population is divided between two groups: one that thinks that "Further synthetic biological intervention is the answer", as opposed to the other "who worship the purity of nature". Maybe, this future isn't too far into the future?
But the story also involves a "synbio necromancer" and a "high priest". And -spoiler alert- it doesn't end too well for the earth and its inhabitants. Only a "few brave souls take flight into the further most reached of space seeking new planets to inhabit."

In the true tradition of concept albums, the main protagonists are introduced in the first two tracks. Their parts are performed by Peyee Chen and Girilal Baars, who strangely enough remain uncredited. This use of voices may be an acquired taste to some, but will probably also appeal to those that like the sound of, let's say, Dead Can Dance.

Monty 'Skrika' Adkins delivers all the brooding soundscapes in a wide-range cinematic production. It's the combination of sounds, the dynamic structure, and the variety of atmospheres that give this album its symphonic quality.
A sound that can be thoroughly enjoyed even if you are not particularly a fan of conceptual Sci-Fi stories of impending doom.
---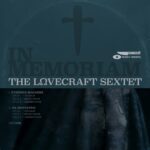 THE LOVECRAFT SEXTET – IN MEMORIAM
Jason Köhnen has made some quite remarkable transitions since he abandoned (**) the explosively energetic breakcore from his Bong-Ra project. I remember him saying that he loved the sound of ambient music, but just couldn't bring himself to slow down so much to create it himself.
But things have changed since then. A lot.

The Lovecraft Sextet is the next manifestation, following The Kilimanjaro Darkjazz Ensemble, The Mount Fuji Doomjazz Corporation, and – more recently – Mansur. It feels like a logical step, "further exploring cinematic jazz orientated compositions." The sheer madness of Bong-Ra is a thing of the past (**), but what remains is the fascination of all things dark and unfathomable.

With its slow rhythms and jazzy touch, In Memoriam feels close to the work of acts like Bohren & Der Club Of Gore or The Dale Cooper Quartet. Köhnen adds a layer of mystery by "incorporating funereal aspects of classical, operatic and Gregorian music" to the music that is itself "inspired by death, release, and rebirth."

The titles Funebre Macabre and De Mysteriis speak for themselves. Both are presented in three versions: Vocalis (with operatic vocals, female and male, respectively), Musicorum, and Ambientum. The basic themes are the same but each version has a completely different approach to the main theme.
I'm not sure about the 'sextet' line-up: there are no names mentioned of anyone that may have contributed here. So maybe it is Köhnen's solo project – but it doesn't really sound like that, so I wonder with who he is performing here.
In Memoriam is a 'multimedia project' in an original way I haven't seen before: included with the download (that also comes with the physical vinyl or CD version) is a 30-minute audiobook (+ pdf text file) of the "Lovecraftian tragedy" novel that Köhnen wrote. A female voice (no credits here either) reads the novel text, accompanied by the music from the album.
(**) edit:
I was wrong about the Bong-Ra project being 'abandoned' and so I have to correct this: in his recent newsletter, Jason Kohnen announces a new Bong-Ra release scheduled for mid-2022, as the follow-up to Antediluvian (2018).