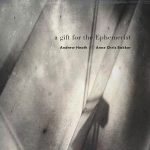 In 2017, Andrew Heath and Anne Chris Bakker released their first collaboration album Lichtzin. Exactly two years later they continue their collaboration with a (cassette/download) release on Rusted Tone Recordings.

Their music is a perfect match: Andrew Heath from Stroud, UK, 'lower-case musician with an emphasis on intricacy and the subtlety of sound', merges subtle piano with electronics and found sounds, while Anne Chris Bakker (from Groningen, NL), adds guitar chords, tape manipulations, electronics and also field recordings.

A Gift For The Ephemerist is the result of an intense period of improvisation and experimentation, 'deep in the cold winter days of the northern Netherlands' and is distilled from many hours of music, using elements as diverse as 'pianos on railway platform and old reel to reel machines.'

I had to look up the meaning of ephemerist: it's a person who studies 'ephemera' or 'things 'transitory or short-lived'.
The 'gift', I suppose, is to realize that not everything is volatile or short-lived: the music on this album make you lose all track of time; the 'dreamlike stasis' represents the exact opposite of anything momentary. Heath and Bakker take their time to develop each of the four tracks: the shortest piece on the album is almost nine minutes, the longest – and in some parts the most tumultuous piece of the set, like the Waddenzee itself, is over eighteen minutes long.
"Pause and contemplate, for here, suspended in time and place, are modulating drones, fragile notes, texture and immersive driftscapes which shimmer and pulse with half-glimpsed melodies that seem to hang in the air."

Winters in the north of Groningen (and in the UK, for that matter) can be cold sometimes – but you can let this music keep you warm all through the winter.

Buyers of the cassette version also receive a digital download with an extra track, Foreshore (Waddenzee).
---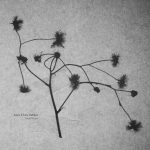 Almost simultaneously with his collaboration with Andrew Heath, Anne Chris Bakker also releases a new solo album: Stof&Geest (also on Unknown Tone Recordings. Stof&Geest translates to Matter&Mind, or maybe better: Body&Mind (but without spaces in-between).

The title refers to Bakker's "search for an intangible space against the backdrop of a Western world that mainly has a materialistic worldview."
The guitar may be Anne Chris' most often used instrument, but the compositions on this album are "largely based on simple piano sketches by recording the piano work on an old reel to reel tape recorder".

Parts of the compositions can be described as thoughtful and introvert, but they can have somewhat more grinding moments too, as can, for example, be heard on Wand and in the title track. This contradiction (or are they complementary?), further emphasized with the stuttering reel-to-reel fragments, feels like questioning the uncertainties of the world around us. "Stof&Geest is a call for the fragile, invisible and indefinable."
On the whole, this solo album is somewhat grittier than the collaboration with Andrew Heath – without losing the subtlety.

The album closes with Make My Bed In Crystal Waters, which previously appeared on Dronarivm's compilation Illuminations II from early 2018.