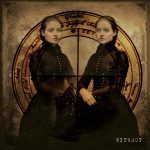 ANDREW SHERWELL – WITHOUT
Shimmering Moods wastes no explanatory words for their release of Andrew Sherwell's Without, so it's up to the listener to create the context for this album. And why not: ambient soundscapes are always colored by the listener's associations. Even the track titles are sparse: Without 01 – 05 (all of them V3 except Without 02, which is V4).
Without is Andrew Sherwell's fourth full album; his second title for Shimmering Moods (after Ektenia in 2018). In 2018, he also released Orthodox Tales on Whitelabrecs; Rusted Tone released Approaching on cassette earlier this year.
If anything, the music on Without is full of beautiful nostalgia. Nostalgia also radiates from the album cover: an image that raises a question because it looks like a woman's mirror image but there's an object on the left side disturbing the symmetry.

Overall, dreamlike choir arrangements create additional mystery to the reverbing soundscapes. The voices (or choir pads) are the main instruments here, and this is why this album differs from most other albums. It's easy to imagine yourself drifting away on these waves – except perhaps in the 10-minute closing track, where the atmosphere turns rather dark and scary.
Without whát exactly? What's missing? Only Andrew Sherwell himself can probably answer that.

Without is mastered by Stephan Mathieu, and is available as a digital download and/or CDR.
---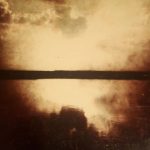 Another release on the very same Shimmering Moods is Anthéne's Skyglow. With 20 albums since 2015 on many different labels and no less than five titles this year only, Brad 'Anthéne' Deschamps has a considerably larger discography.
Skyglow is his first release for Shimmering Moods and is mastered by Ian Hawgood.
Guitar-based dronescapes, somewhat reminding the work of Celer or Chihei Hatakeyama, but with a different and very personal touch from intently using some lo-fi distortion where needed. To describe the atmosphere I would simply just point at the cover image.
---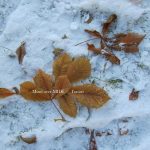 MIND OVER MIDI – TRANSIT
Since we are on a Shimmering Moods binge post by now, we mustn't forget this Mind Over Midi release, even though the CD version almost immediately sold out after the release. In line with the other releases, Shimmering Moods does not provide any information, except that the person behind Mind Over Midi is Helge Tømmervåg (from Norway).

Mind over MIDI is a (relative) veteran of ambient music: his discography goes all the way back to 1996, with 26 full albums and 21 singles and EP's.

Transit is the second release for Shimmering Moods. Coincidence or not, this album is a great match with Andrew Sherwell's Nostalgia mentioned above: here too the arrangements of (virtual) choirs define the atmosphere. Floating and stretched to suggest timelessness, even though the individual tracks are relatively short (each around the 3-4 minutes) which is quite unusual for this kind of music.

Helge's motto is "Ambient music for daydreamers and nighthinkers. Inspired by nature."
I guess that about says all that is needed.
And yes, I know I'm lagging.. while writing this post, Shimmering Moods have already released at least three new titles already… running a blog is a bit like rowing against the tide – but I don't complain!