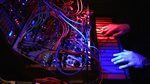 Oraison, written in 1937 by Olivier Messiaen for an ensemble of Ondes Martenots (an early electronic keyboard instrument using a ribbon and a ring to change pitch), was one of the first compositions written for electronic instruments exclusively.
But that historical fact is not the only thing that makes this music so special.
There's a very special timeless, otherworldly, alienating feeling in this composition… even after 70+ year of technological advances.
It's the perfect blend of a strange, previously unheard instrument, and the composition especially written to use it.
Recently, Richard Lainhart transcribed Oraison for his Buchla 200e synthesizer and Haken Continuum Fingerboard controller, and has shared this performance on YouTube and Vimeo. Because of the 'tactile' way of playing the Haken Continuum Fingerboard, the piece retains its original, almost human voice-like feeling.