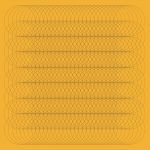 It is no secret that one of Sietse 'Orphax' van Erve's most important sources of inspiration is the work of Eliane Radigue. A constant search for the minimal means to express what needs to be expressed.
This much is clear when listening to his Live Circles, although for this particular album he cites a live performance of music by La Monte Young as the main trigger for this particular composition.
Circles is a work in progress, a growing composition that evolves when performed live.
"There is no beginning and no end, and as such it can continue changing over the years."
It intends to create "a sound environment in which the listener loses the sense of time and space."

Live Circles captures two live performances of the work and merges them into one single 36-minute piece. The performances were recorded in London (IKLECTIC) and Birmingham (Centrala), respectively, expressing different layers of emotions: "in London I was very relaxed, while in Birmingham things were rougher." (The reasons for this are explained on the Bandcamp liner notes)

Merging these two performances into one single piece shows that a minimalist drone, the kind that makes you lose all sense of time, can still convey different emotions that can change almost unnoticed.

"Find yourself a comfortable place and have a nice trip."
---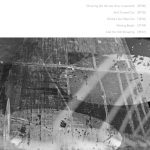 With winter slowly but undeniably approaching this may be a good release to prepare for the season. After all, the bright light of the winter's sun is one of the more positive aspects of the season.

Quest is one of the many aliases of Dutch artist Frans de Waard. And even this particular alias has its own aliases: "when it has rhythm it was called QST and without is came as Quest".
Which means there is no (or hardly any, to be exact) rhythm on this particular release.
Winter's Sun is one continuous 49-minute composition, but it has five distinct parts of which the titles read as a poem as well as a listening guide:

Shivering (for the last time, it seemed)
As It Turned Out
Winter's Sun Was Out
Shining Bright
And Yet, Still Shivering
The music reflects these titles almost literally: bright, fresh, blistering electronics alternated with introspective piano moments, which in turn can morph into a complex drone. And vice versa.

Frans de Waard's music can, at times, be pretty uncompromising. In this regard, Winter's Sun may be one of his 'softer', perhaps somewhat more accessible releases (for those that are 'uninitiated' to his immense body of work). Which may prove to be a good starting point for further explorations.