I must admit I feel guilty. The amount of promos I receive exceeds the frequency of my posts by far. Even if I raise the 'publishing standards' (which means that some very nice albums fall through the cracks), the pile of albums that I dó want to recommend grows at a frightful speed. And some of the albums inexplicably remain at the bottom of that pile, until the moment where I start to wonder if it's too late because I missed the 'momentum'. But at the same time, I realise that there may be still some people out there that may not have heard about it.
So here is my cowardly solution to that: I'll mention some of these albums, simply to 'clear the pile', not searching for my own words to describe them… but simply to recommend them in case you missed them earlier.
I try to keep up but I'm afraid I can't. There's too much great music out there.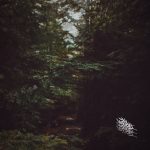 Narrated by strings of plucked piano phrases that come and go like afterthoughts, The Elia Passages is either the retelling of a culture that has yet to exist, or the remembrances of one that may never have existed. The tales told in the Elia Passages, like most myths, exist outside of time: beyond the sonic environment they present, the space they occupy is that of the imagination.

This beautiful set of tracks by Marty Hicks from Melbourne, Australia (but now living in Tokyo) was released on all digital platforms first, and on cassette on Rural Sounds a few weeks later. The cassette is, of course, sold out by now, but the digital versions remain.
---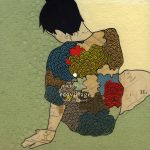 Ecovillage, exists since 2006, after Emil Holmstöm and Peter Wikström (who had been working together on different projects since 2001) travelled throughout South Asia for three months. This is their sixth album, but "in some sense we feel it's our first."
"With a more letting go and less is more attitude a new sound has arrived. To rather remove than add.
We feel to have finally found our specific roles in the band after a lot of trial and error. A more minimal and mature sound is definitively heard throughout the album."
The beautiful orchestral sound is completed with the aid of Ludvig Cimbrelius (piano, guitar), David Feldman (cello), Christian Grothe (trumpet), Antonio Barbosa (violin) and Luis Miehlich (strings).
---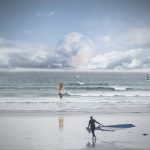 Aerium is one of the many aliases of Leander Rispens, a trance producer from Rotterdam, Netherlands. Trance combined with Rotterdam does not necessarily associate with the relaxed atmospheric soundscapes on this album, which Rispens refers to as his first (self-released) downtempo/ambient album.
But it dóes indicate there is an occasional rhythmic dub-techno pulse popping up every now and then.
The overall atmosphere of the album is as relaxed as its cover.
---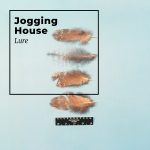 JOGGING HOUSE – LURE
Lure is about hearing through the noise that surrounds us – and listening to our hearts. About accepting the things we cannot change and finding comfort in uncertainty.
All tracks were recorded straight to 1/4″ tape in single takes.
Made with Elektron Digitakt & Digitone, Eurorack Modular, Ciat Lonbarde Cocoquantus, Boss SP303, Chase Bliss Warped Vinyl MK2, Montreal Assembly Count to 5, OTO Bim & Bam.

Jogging House, by the way, is Boris Potschubay, and Ambient Electronic artists from Frankfurt Am Main (Germany).
---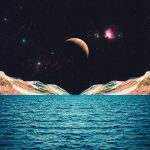 Tobias Lorsbach, from Mainz, Germany, is Logic Moon. Coming from the minimal techno scene in the early 2000s he started layering ambient drones after a field recording excursion.
Retro-futurism is the over-arching concept to I See Planets, something which Tobias does not map out for you the listener to read so you're clear. Instead, this bewildering atmosphere is a heady journey that requires the time and space for it to unfold carefully.
Fleeting moments of warmth are interspersed with themes of artificial intelligence, comprehension of time and darkness.