The Taâlem label celebrates its 20th anniversary by releasing six new releases – ánd by announcing 'the end of an era' at the same time: this will be the last batch of the 3″ CD-R series they have become so well-known and well-respected for. Let's focus on two of these: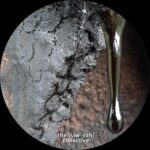 THE [LAW-RAH] COLLECTIVE – TESS
The [Law-Rah] Collective are Bauke van der Wal and Martijn Pieck from Utrecht, the Netherlands. The fact that they come from my own hometown is not the reason I recommend their release, this is strictly for their music. After all, their website is called 'darkambient.net' for a reason. And Tess is a 20-minute fine example of drone-based dark ambient.
Tess is dedicated to Hiekelien ('Tess') van den Herik, Dutch writer, performer, and former contributor to The [Law-Rah] Collective, who sadly passed away at the age of 38 in 2020.

The length of the composition – 19'53" – refers to the haunting [Law-Rah] Collective 1953 release commemorating the Dutch flood disaster on which she contributed the lyrics and spoken word. (It's worth mentioning that all proceeds of 1953 are donated to the Dutch Cancer fund KWF, so please do also check this 2004 release if you didn't yet).

Tess is essentially a drone piece, but it gradually includes industrial sounds that increase the tension. It is not necessarily 'easy-listening', but it isn't intended as such.
It's a strong and beautiful piece of industrial drone ambient that demonstrates the power of The [Law-Rah] Collective as well as that of the Taâlem label.
---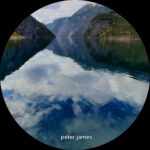 As usual Taâlem releases their issues without much background information about neither the music nor the artists. It's up to the listener to decide if it's worth doing further background research.
So there's not much information about Peter James – obviously I struggled with that back in 2012 when recommending his album Landfall.
From his Bandcamp page we can learn that he is a "musician, sound designer, sound engineer, photographer and producer, currently based in Perth, Scotland, (who) mainly writes ambient music but likes to work in other genres too" and has released some 10 albums since 2000.
Fade In, Burn Out is a 22-minute piece pulling you into a sound that can be a storm as well as manipulated white noise. In the first 14 minutes (Fade In?), this develops slowly, carefully adding details to the sound to enhance the tension. Then, the 'storm' intensifies to noise level until it literally 'burns out'.

This definitely isn't 'warm' ambient music. In fact, I strongly recommend to put on a sweater before you start listening.
---
These are only two of the six releases of the last and latest Taâlem batch.
They are available as a 6-pack bundle but also separately:

Pierre Juillard – Haga
Tarab – Material Studies #2
James P. Keeler – Terrarium Dreams
Svær – л​.​λ​.​ハ