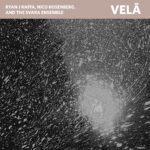 RYAN J. RAFFA, NICO ROSENBERG & THE SVARA ENSEMBLE – VELÃ
Let me introduce you to one of the most surprising albums I have heard recently. In the overload of music that is brought to my attention, not many albums tend to go 'on repeat' but this one definitely did. And it's easy to hear why: this is a perfect example of a 'crossover' album on which different genres merge into a result that is more than the sum of its parts.
This is as much 'ambient/electronic' music as it is ethnic (drone) music. It is 'global' music bringing together musical cultures from almost every continent: "from India, Taiwan, Chile, and Germany to the States, the UK and beyond".

Velã presents a set of improvisations that feature Indian classical instruments (bansuri, dilruba, santoor, sarangi, performed by The Svara Ensemble), accompanied by electronic instruments (synths, modular, tape recorders, played by Ryan J. Raffa and Nico Rosenberg). Lawrence English added the finishing mastering touch into a perfectly balanced sound.
Historically speaking, 'drones' (as in 'long, sustained notes', providing "an effective background to the melody, which adds the stability which in western compositions is furnished by harmony") can be found in many different musical cultures. Most of all perhaps, it has always been an essential element of Indian music (more detailed info about the use of drones can be found in this background article).

Velã is neither an 'ethnic/world' album nor a 'drone' album. And it isn't strictly 'ambient' either.
In fact, it is all of that as well as it is none of it.

If that sounds like I'm talking gibberish, I can perhaps best quote the artists:
"Listening to this music is the best way to understand what we were feeling and concentrating on during the project."
---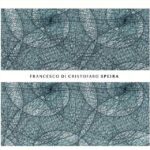 FRANCESCO DI CRISTOFARO – SPEIRA   
Francesco Di Cristofaro's Speira is another example of 'drone music' created with acoustic instruments. Not exclusively acoustic: there are some electronics involved "to create long microtonal textures and cyclic parts", and there's the occasional field recording. But the original sounds come from the accordion, some string instruments, and various wind instruments from China, India, and Armenia.
"Bansuri, dizi, bawu, zurna, accordeon, bouzouki, baglamas, rabel, stylophone", to be complete.
In the five untitled (or better: numbered) tracks, the Italian composer combines his experience studying piano and accordion with his interest in traditional music to "pour out traditional sounds and instruments [into] electroacoustics, between minimalism and drone music."
Every track has its own distinctive sound and different instrument setting, but perhaps 0.III is worth mentioning for the use of the accordion as the main instrument. It is not explicitly credited, but feels like a homage to the deep listening work of the late Pauline Oliveros.

Speira is mastered by Taylor Deupree and released on the Italian label Liburia Records.