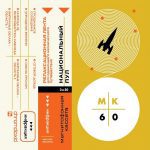 "Only 100 copies survived".
If you still weren't convinced by the package, with the text in untranslated Russian language, the Farewell Message from the intro leaves no doubt: these are recordings from a past era, when "even enemies recognized that in our country [Russia] for the first time in history a society is built that is in a strong alliance with the future."
The proud and successful era when the "moon stations made their incredible flights! The atomic icebreaker was put into operation and the construction of the world's largest nuclear power plants is successfully happening."

It's hardly surprising that those were times that this strange and somewhat alienated music was composed by an unnamed "U.S.S.R. ambient composers alliance" to "equip our Cosmonaut comrades with these sounds. They intent for solo space travels, mind sharpening and concentration."
This release breathes Retro in every tiny detail: from its release format (cassette – the digital download has all of its analog tape hiss too), its enigmatic cover, its liner notes about Russian past time space travel successes.
It's a beautiful and convincing analog retro sound, but doubt creeps in. Would the Russian composers alliance (or anybody else, for that matter) really be able to create sounds like these in the late 50's? Seems doubtful. Listen to the recordings of this era's most progressive acoustic experiments as created by the Philips NatLab composers and you'll hear the difference.
From there, it probably doesn't take long to realise that the structure of the pieces is that of more contemporary electronics. And it fairly easy to find out that The National Pool is a somewhat enigmatic Electronica-Rock/Ambient outfit with Bradley White as its single band member (although not of his/their releases are mentioned on Discogs, they can be found on Bandcamp).
Infraction Records did an impressive conceptual job with this release, where every detail is worked out perfectly. But it's not  'just' the concept that works: the music is great too. Timeless, enigmatic, quiet, and somewhat out of this world.
It may still take some time before we people can travel into space personally, but in the meantime this is perfect to pretend we can.
Ánd it will definitely help 'sharpening your mind and concentration'!
---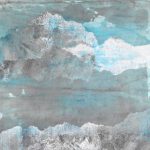 Tracks covered in a hazy mist of hiss, noise and crackle – as if the music comes to you from long forgotten times. Or from far away: this album is inspired by the tales of Andrew Sherwell's grandfather, who travelled the Balkans, Central Europe,the Caucasus and South Russia during the turmoil of the inter-war period.
And told bedtime-tales of these adventures to his grandson Andrew: tales "of the people he met and their folk tales, of days lost in endless forests, of nights camped out on a sea of grasslands when the frost was so hard that his blanket twinkled in the moonlight, as brightly as the myriad stars above. He told of feasting with mountain goat herders and with Orthodox Bishops, of shape-shifting shaman and of beautiful Princesses, of demons and of angels in human form."
Andrew would slowly fall asleep while his grandfather lowered his voice, drifting away into his own fantasy versions of these strange and magical lands.
Andrew Sherwell perfectly captures these moments in sound and is able to transfer this to the listener. Sounds from a mysterious faraway world, images from somewhere in-between reality and imagination. Somewhat tensive, yet also very attractive.
---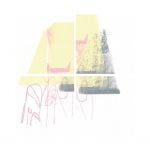 Saudade is a Portuguese word describing: "a deep emotional state of nostalgic or profound melancholic longing for an absent something or someone that one loves. Moreover, it often carries a repressed knowledge that the object of longing might never return. […] It was once described as 'the love that remains after someone is gone', or a 'memory of something with a desire for it'"

Usually saudade is associated immediately with Portuguese music, but R Beny (real name: Austin Cairns) shows that this feeling can also very well be conveyed using cassette tape loops, modular synths, a Novation Peak (synth) and added field recordings from California.
On this Dauw release (you know them by now – the cassette releases with the Belgian label's characteristic bright-coloured artwork) Beny re-creates "forest drives, coastal cliffs, lost loves, aged memories like light gleaming through the trees." The cassette version is sold out by now, but the digital download can still help you find out how Saudade may feel.