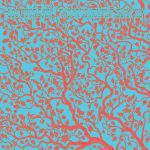 There are many solo piano albums released, a lot of them starting to sound the same. The result of that overload is that listeners lose interest – at the risk of also missing the albums that áre worth listening. The ones that stand out because of their original approach or compositional value.
Leo Svirsky's River Without Banks, released on Unseen Worlds Records is such an exception to the rule.
An important part of the surprise comes from the compositional approach: the tracks are arranged for two pianos, with accompaniment from strings, trumpet and electronics. The use of two pianos creates a fascinating, rippling effect – indeed not unlike water flowing in a river. I'd imagine that playing these parts must be rather difficult because of the slight variations in timing. Both piano parts on this album are played by Leo Svirsky himself (and I can't decide if that makes playing these scores easier or harder).

"Akin to a multidimensional Rzewski thematic interpretation, Svirsky's music defies genre-classification or classical ideology while its virtuosity clearly stems from somewhere from within disciplined traditions. […] His work explores how the instability of listening itself transforms the perception of musical semantics and affect. Disorientations of memory and spatial awareness are nevertheless bounded by a rootedness in song and story."
Leo Svirsky is an American born composer, currently living in The Hague. He received a masters in Composition from the Royal Conservatoire (studying under Cornelis de Bondt, Martijn Padding, and Antoine Beuger) as well as a masters in piano performance from the same institution.

This clearly is not just one of those average-sounding piano albums – it's clear that there is a serious (but not tóó serious to be enjoyed) modern classical composer at work here. One that deserves your attention.
---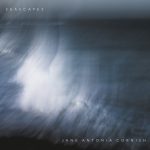 JANE ANTONIA CORNISH – SEASCAPES
As stated, there are só many piano-orchestral-modern classical recordings/soundtracks currently, that it is very hard to separate the wheat from the chaff. Spotify playlists with mediocre recordings certainly don't help.
But when I learned about Jane Antonia Cordish's Constellations earlier this year, I immediately felt the difference. I compared her work to that of Max Richter and Jóhann Jóhannsson, which is not something one should say easily. The fact that she is also the first woman in history to win a British Academy Award (BAFTA) for music only underlines that we're dealing with a special talent here.
After all, Jane Antonia Cornish, is not 'just another artist releasing a modern classical album'. She has previously released five albums and scored at least eight films until now.
Seascapes is her fifth studio album (so it says on the website, though I count six on the album page), and Seascapes definitely confirms her firm reputation. The music (written for piano, bass guitar, orchestra, and electronics) was commissioned by the Chelsea Music Festival and features the renowned Vicky Chow (Bang On A Can All-Stars) on piano. It "beautifully translates her profound connection to the sea into an arresting tableau of sonic wonder".

The compositions (titled Seascapes I – III and Epilogue, Yūgen and Drift) are more quiet and subdued than the impressive, almost fearsome waves in the teaser video may suggest.
But still, Seascapes delivers the kind of music on which the listener can drift away into an endless ocean of thoughts.
---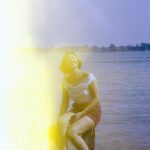 There was something refreshingly unusual in the sound of this album, but it took a while before I realized what it was. Part of it was the album cover, a burnt-in 50's photo. Another part was a subtle difference in its description:
"In part 'Until Forever' tells a story of memory and reflection. There's hallucinations, loneliness, regret, exhaustion, whisky, polaroids, and cigarettes, but also a strong endeavor for hope and resolution" (Bandcamp) versus "'Until Forever' tells a story set somewhere in mid-century America: a time in a motel somewhere downtown. There's loneliness, memories, exhaustion and visions. There's a bar, a turntable, cigarettes, old photographs, bourbon, and the desperate hope for resolution." (website).

But then I realized it was mainly the unique instrumentation – the way lush arrangements (ranging from barroom jazz to widescreen movie score) interact with the analog synths.
Weird (Caretaker-like) intermissions like Motel Radiobox (Scene 26) drift into A Cause For Hope (Scene 27): almost as sugary as a Disney movie track, but with a careful twist to prevent it going over the top. Only to take things even further with the choral arrangements of Recounting Old Times (Scene 34). Ersatz is not afraid to explore areas where many fear to go, and with a stunning result.
Ersatz is a project by multi-instrumentalists Ben Johnson and Jim Cornick, based in Bristol UK. On Until Forever their sound is completed with the help of the Newport Philharmonic Choir, a cello trio and a wind ensemble of trombone, alto sax, flute, and clarinet.

Even though Ersatz has released music for more than a decade, this is my first encounter with their music – so I'm happy to see that their previous albums are also available on Spotify so I can further explore their past.