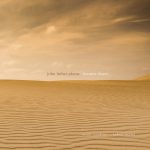 Five years ago Become Ocean was released: a Pulitzer prize-winning composition and Grammy award-winning recording by John Luther Adams, which debuted at #1 on the Billboard traditional classical chart. It was a spectacular recording, dividing the orchestra into three parts 'to create a vast sense of undulating space and rhythm'.
Become Desert is comparable in its concept – after all, the fractal waves of an ocean are not unlike those of a desert – but explores an even larger scale: this time there are five different ensembles moving at (five) different tempos, as well as a large (100+) orchestra and (30+) choir – all of them surrounding the audience. The choir's text is a single word: Luz ('light'), relating to the score's inscription: 'Close your eyes and listen to the singing of the light.'
Catching an immersive experience like this in a stereo recording is a difficult task, of course: the immersive experience being an important part of the concept. That is why both Become Ocean and Become Desert also contain a DVD featuring a 5.1 surround mix of the performance recording. The Become Desert DVD also features a slideshow loop of desert images shot by John Luther Adams himself.
Even if you're not in possession of a surround sound home system: the exquisitely detailed recording of the stereo version is definitely worth investigating! For the true surround experience, you can always hope to be able to attend a live performance of the piece.
The inspiration for the 40-minute composition Become Desert came from the birds, winds, sand and rock in the Sonora Desert, the hottest desert in Mexico (and parts from Arizona and California).

"However Become Desert is not a painting of any particular landscape. I imagine this music as a landscape of its own, a landscape that extends beyond the place in which it was composed. In the ears and the imagination if the listener, I hope this becomes a private desert of your own."

The piece starts (and ends) with quiet, subtle percussion sounds, which may or may not depict sunrise and sunset, but in-between the music grows into a forceful, prolonged climax – like the blistering heat of the midday desert. Amidst this massive orchestral sound, the listener feels insignificant, maybe, in the same way, he would experience the forceful powers of the desert (or ocean).

'Along the way, "You begin to feel that this music you had thought was suspended in time is slowly leading you somewhere, pulling you somewhere. It continues upward, rising with inevitable force, like the wind or the light."'

Before Become Ocean (2013) and Become Desert (2017), both written for a large (and even larger) orchestra and choir, Become River was written in 2010 commissioned by the St. Paul Chamber Orchestra. It was scored for a much smaller setting, which matches the ratio of a river to the ocean. Until today, there is no official release of this 'prequel', although there is a premiere performance recording that can be heard online.
JOHN LUTHER ADAMS – BECOME DESERT (Fragment Edit)
(Please note: this is an unofficial edit)
---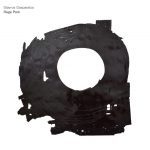 STAVROS GASPARATOS – RAGE PARK   
"What would happen if you let yourself lose control, break out, without any repercussions?"

That is the question Greek composer Stavros Gasparatos asks himself (and us) on this album. The music is recorded live in a 2018 performance by a quintet featuring strings (violin, cello), piano, percussion and electronics.
Rage Park consists of seven parts: an Introduction, three Chapters of rage slowly building up, followed by a Black Out, Aftermath and Echo. Of course, this means these parts can best be listened to in the order they are presented.

I'd be inclined to describe it primarily as a 'modern classical' piece, but that would not do justice to the remarkable interaction of the acoustic instruments with their electronic counterparts, which seem to be gradually taking over when the 'rage' seems to get out of control.
There are not many compositions that I know of where these instrumental counterparts are so well balanced!
Composer Stavros Gasparatos is considered one of the most important and prolific composers of the New Greek generation. He has composed music for over 100 productions for dance, theatre and cinema, as well as minimalist instrumental and experimental music and sight-specific sound installations. Most of these are not officially released separately: just compare the extensive list of works mentioned on his website to the four (!) releases mentioned on Discogs.
Rage Park is my first encounter with his work, and for me, it immediately places the composer on par with the famous contemporary composers such as Jóhann Jóhannsson, Max Richter etc. But unlike some of the other contemporaries, Gasparatos cleverly avoids the pitfalls of melodramatic sentimentalism: Rage Park is a serious work dealing with serious emotions. Impressive.

The music on this album is powerful enough to stand on its own, so the listener can relate to his own emotions. Nevertheless, director Stathis Athanasiou created a music video trilogy featuring actress-performer Serafita Grigoriadou which summarizes Rage Park's theme into a haunting 16-minute movie that can be watched on YouTube (in 3 parts) or on Vimeo. It shows that uncontrolled rage cannot be without consequences.