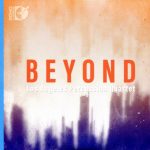 LOS ANGELES PERCUSSION QUARTET – BEYOND  
A double album presenting 84 minutes of contemporary compositions for percussion, opening with pieces by two composers that I have mentioned here before (Daniel Bjarnason and Anna Thorvaldsdottir).
This immediately raised my interest. I was even more interested when I saw the extensive way this album was presented (more on that later).
For this double album, the Los Angeles Percussion Quartet have recorded new commissioned works from Bjarnason and Thorvaldsdottir (both from Iceland), Andrew McIntosh and Ellen Reid (both from Los Angeles) and Christopher Cerrone (from New York).
The performance of the LAPQ (as well as the immaculate recording and production) confirm their status as one of the leading ensembles of its kind, dedicated to commissioning, presenting and recording new works for percussion quartet.
From the most subtle, tiniest sounds of metal bells to the thundering rage of large drums, the sound of skin, metal, wood, clay  or stone – everything is captured with brilliant clarity and unbelievable dynamics.
The first CD features Qui Tollis (Daniel Bjarnason), Aura (Anna Thorvaldsdottir), the five-part Memory Palace (Christopher Cerrone) and Ellen Reid's Fear-Release.
The second CD is reserved for Andrew McIntosh's  I Hold the Lion's Paw, a 40 minute piece divided in 9 parts. Together, these compositions explore the full spectrum of what can be achieved using 'only' percussion instruments.
The stereo versions on the double CD are amazing enough, but for total immersive bliss Sono Luminous also includes a Blu-Ray disc including full surround versions of all compositions.
And 'full surround' definitely means "FULL": a 5.1 /9.1 discrete channel recording (as opposed to a surround 'upmix' that suggest the reflection of a room but leaves the instruments in the front speakers).
So if you want to experience something completely different, play this on your surround set if you can.
Praise for Sono Luminous and LAPQ  for not taking the easies route: I've seldom seen a more sonically satisfying package. Apart from the 2CD stereo set, the Blu-Ray disc contains a 5.1 DTS-HD Master Audio version (24/192kHZ), a 9.1 Auro 3D 24/96kHz version (Auro-3D is a new surround format, comparable with Dolby Atmos) and a 2.0 24/192kHz version.
And for further convenience, the Blu-Ray disc also contains mShuttle software to easily transfer MP3 and/or FLAC versions to your portable device.

LOS ANGELES PERCUSSION QUARTET –
CHRISTOPHER CERRONE: MEMORY PALACE: III. FOXHURST