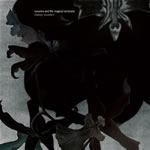 To say that I was touched by "Melody Mountain", by Susanna and the Magical Orchestra would be an understatement. In fact, it hit me quite hard.
It may seem a bit strange to have an entry on this blog about a vocal cd containing pop covers…if it weren't for the music in the background. This sparse, mainly electronic music will certainly appeal to the ambient music fan. It is created by jaga Jazzist keyboard player Morten Qvenild and produced by Deathprod (Supersilent) – who is well known for his own ambient music and his collaboration with Biosphere. Backed by this (almost ambient) soundtrack, Susanna's voice sounds even more intimate and honest.
The selection of artists covered may well raise an eyebrow (or two): Prince, Leonard Cohen, Bob Dylan, AC/DC (!!), Kiss (!!!!), Depeche Mode, Fairport Convention (the cover of Fotheringay is especially moving) , and the inevitable Joy Division (sampled here). If you like Nouvelle Vague but think they were a bit too light-hearted, be sure to try out Melody Mountain!