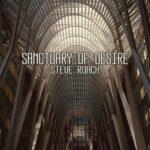 Sometimes, one seems to overlook things that have always been there. And maybe that is somewhat the same for artists. Steve Roach is one of the artists that has been around from almost the beginning of 'ambient' music. Heavily inspired by Tangerine Dream, Klaus Schulze, Vangelis, he began releasing music in 1982. In the past 41 years, he released over 200 albums, thus averaging almost five titles every year (!).
His early inspiration may be rooted in the 70s electronic music scene, but he soon developed a personal style that is immediately recognizable. His musical language is completely independent of all the different currents in contemporary ambient – like a beacon in a rough sea.
It seems Roach can draw his inspiration from an inexhaustible source: Sanctuary Of Desire is a 2CD album with no less than 2.5 hours of music.
In the nine tracks, varying in length from 7:20 to 31:21, he 'explores a realm of suspended tranquility, sustained reflection, and emotional resonance'.

The first CD offers music drifting as if on a calm ocean, surrounding you like a warm blanket, for moments of peace in a world in turmoil. The second CD is more energetic, based on the restless sequencer loop patterns that directly link back to the original 'Berlin School' type of music.
As Roach describes it himself: 'from this moment of repose that Joan Halifax calls 'the fertile darkness', comes the music on the second disc. The internal becomes action'.
Oh… and I forgot to mention that the digital download of this 153-minute album is offered as name-your-price!
---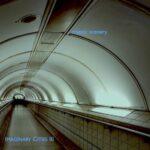 In what may (or may not) be the last in his Imaginary Cities series, Cryptic Scenery (Christian H. Sötemann) takes us to four new imaginary cities.
Like on the previous editions in the series, each track is around 20 minutes long and has a quietly evolving soundscape built around guitar loops and synths. The tracks perfectly match those of the earlier releases, even if there are subtle differences: 'in each volume, different synthesizers were used to some extent, and the track "Eighth Imaginary City" is the only of the ten tracks for which all parts were recorded on guitar, and without synthesizers'.
80 Quiet, immersive minutes (not counting the previous six tracks of course) available as a free or name your price download … no reason to hesitate!